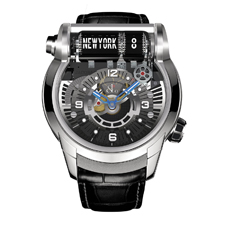 Jacob & Co. Epic sf24
Time Travelers
The best in travel watches keep you running on time wherever you are in the world
Whether they knew it or not, when the Wright Brothers took off at Kitty Hawk, North Carolina, in 1903, they were not only ushering in the age of flight, but new directions in watchmaking. First came men's wristwatches  when early pilots adopted the style, previously thought feminine, to replace hard-to-access pocket watches. And when advancements to the brothers' invention ultimately made international travel common and convenient, watchmakers responded with multiple-time-zone functions that allowed jet-setters to keep up with their globe-trotting lifestyles.
Today, the ease of communication from one side of the world to the other also makes keeping a handle on differing time zones a must. (Who wants to mistakenly awaken a client by phone at 3 a.m?) Timepieces that includetime-zone complications—such as dual-time, world-time and Greenwich Mean Time (GMT) watches—are forever being upgraded by watchmakers with improvements that have made them responsive to more time zones, more easily settable, simpler to read and just plain more interesting to look at.
It was another development in travel, the rapidly expanding railroads of the nineteenth century, that spurred the establishment of the standardized time zones that travel watches now reconcile. Official time had varied from region to region, even town to town, wreaking havoc on rail schedules and confusing travelers. The 1884 International Meridian Conference in Washington, D.C., officially named Greenwich, England, as the prime meridian of the earth, and GMT became the standard for determining other time zones based on longitude. In 1972, GMT was replaced as the primary time standard by Coordinated Universal Time (UTC), which is synchronized with International Atomic Time, though we often use the terms interchangeably.
After missing a train in Ireland in 1876, Sir Sandford Fleming, a Canadian engineer and railroad pioneer, became an early proponent of worldwide standard time. He also commissioned the first world-time watch, displaying all 24 standard time zones at once, from a London jeweler in 1880. He called it the Cosmic Time pocket watch.
Geneva master watchmaker Louis Cottier designed and produced his first world-time pocket watch for a local jeweler in 1931. He followed up with the first world-time wristwatch for Patek Philippe in 1937. His ingenious system used a rotating 24-hour ring on the dial paired with a bezel engraved with the names of cities in each of the 24 standard time zones, allowing the wearer to read the time almost anywhere in the world at a glance. Cottier considerably advanced his world-time concept in 1950 with a two-crown world-time system utilizing a movable disc on the dial printed with the city names and a rotating 24-hour ring. Variations of Cottier's rotating-disc system are still used today. Bringing Cottier's mechanical concept into the digital age, Seiko's solar-powered Astron, which added seven new models this year, connects to the GPS network and automatically adjusts to the exact time in your position as well as in 39 world time zones.
Rolex collaborated with Pan Am Airways to design and develop the first GMT watch, the Rolex Oyster Perpetual Date GMT Master, which launched in 1954 at the dawn of the jet age. Originally intended for professional use, the watch featured a 24-hour ring and a fourth hand to track GMT, which at the time was essential for aviators to follow. (Before GPS, navigators determined longitude by comparing the exact time where they were located to Greenwich Mean Time.) As commercial air travel spread, GMTs found a new audience with international businessmen and jet-setters alike. Purists may argue that a GMT's second time zone should remain set to actual Greenwich Mean Time, but travelers generally prefer to set it to whichever second time zone they wish to follow.
Rolex upgraded the original in the early 1980s with the release of the GMT Master II, which allowed for quick setting of the hour hand without disturbing the operation of the minute, second and GMT hand. The model was updated again in 2005 with improved movement technology and a resilient Cerachrom ceramic bezel. This year's Oyster Perpetual GMT-Master II in 904L steel ($8,950, rolex.com) features a bicolor Cerachrom bezel insert with blue representing day hours and black for night. The two-tone aesthetic recalling the original GMT Master and GMT Master II may appear a simple design flourish, but combining two colors in a single piece of ceramic is something of a technical feat resulting from an exclusive process developed by the brand. The GMT Master II's rotating 24-hour bezel and separate 24-hour hand allow travelers to follow three different time zones.
The 45 mm Ingenieur Dual Time Titanium ($8,800, iwc.com) is one of several new models in the newly revamped IWC Ingenieur range, which draws design and technical inspiration from the brand's partnership with the Mercedes AMG Petronas Formula One Team. Set your local time forward or backward in one-hour steps using IWC's TZC (timezone corrector) system via the rubber-coated crown. A hand with a white triangle tip keeps track of a second time zone of your choosing on the 24-hour ring printed around the periphery of the gray and black dial. To help distinguish day from night in the second time zone, the numbers from 6 p.m. to 6 a.m. are printed in white against a black background contrasted with daytime hours on gray.
TAG Heuer also celebrated its automotive spirit this year as it marked the 50th anniversary of its flagship Carrera line named for the perilous Carrera Panamericana race. In addition to several new chronographs, the brand released the Carrera Calibre 8 RS Grande Date and GMT ($3,900, tagheuer.com) in steel with a choice of dial colors. You can also opt for an alligator strap or an ergonomic H-link steel bracelet. Under the dial beats the automatic Calibre 8 movement constructed from an ETA base caliber fitted with a Soprod module that controls the GMT function and big date, which is displayed at 12 o'clock. The second time zone is easy to read on a two-handed sub-dial at 6 o'clock.
While GMTs and dual times offer a straightforward approach to tracking an additional time zone, watchmakers have devised myriad systems of varying complexity over the decades. This year, Jaeger-LeCoultre applied its breakthrough Dual-Wing movement to create the Duomètre Unique Travel Time ($33,100, jaeger-lecoultre.com), limited to 100 pieces and exclusively available at the brand's Paris boutique. The Dual-Wing movement consists of two separate mechanisms—one dedicated to local time and the other to displaying a second time zone. While both share the same regulating organ, they each have their own power source eliminating the potential for lost precision. Accordingly, the dial shows two power reserve indicators. The subdial at 10 o'clock displays the hour in an aperture paired with a central minute hand, while the subdial at 2 o'clock displays a second time zone in a traditional two-hand format. An eye-catching turning globe—represented from an above-the-North-Pole viewpoint—and hours disc at 6 o'clock serve as a day/night indicator and world-time function (provided you are very good at geography). The names of the cities corresponding to the world's 24 time zones are engraved on the case back for reference. Duomètre Unique Travel Time is the first travel watch that allows you to set the second time to the minute—accommodating nonstandard time zones, such as India's, that vary from standard zones by 30 or 45 minutes.
You must be logged in to post a comment.
Log In If You're Already Registered At Cigar Aficionado Online