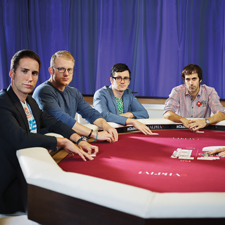 This new crop of talented poker players maintain luxurious travel lifestyles whenever they play in high-stake tournaments. From left to right: Jeff Gross, Jason Koon, Isaac Haxton and Jason Mercier.
Poker's New Jet Setters
The next generation of poker stars traverse the globe in high style
Ttired-looking 20-somethings amble through an array of international airports carrying little more than duffle bags and backpacks. Casual clothes and long hours on airplanes make them look like burnt-out travelers wrapping up a long tour. While they don't resemble anyone's traditional idea of world-weary jet-setters, these underdressed Millennials are indeed hitting some of the most stylish locales on the planet: Barcelona, Rome, Monte Carlo, San Remo, London, L.A. and Macau. Often, awaiting them upon arrival is the opportunity to realize a six- or seven-figure payday that would bring a smile to the face of even the most jaded international citizen. The more successful of these high-living itinerants stay in the best hotels, dine at the poshest restaurants and have grown accustomed to flying business class or first.
We're not talking about jewel smugglers or dealers in shady financial instruments or indy rock stars. These young men, all in their 20s, comprise the new generation of successful poker players. They transport in high style around the world through a circuit of big-money tournaments and cash games. Comparing this enlightened mode of travel to the old, game-to-game car trips of their forebears—guys like Doyle Brunson and Amarillo Slim—is like comparing high-definition television to a boxy black-and-white tabletop TV with antennas.
Evolved into travel snobs and unrepentant foodies—one guy brags, "After Italy, I can't even eat pasta in the United States anymore"—this group of young poker pros simply follows the money. "I could go to Las Vegas and beat live poker; there are always lots of tourists and live pros with less experience," says Alec Torelli, who won his first online million before turning 21 and now spends enough time in Italy that he is sponsored by PokerStars there. "But the win rate of the Vegas pro has gone down because the ability of the average player has gone up dramatically. The market has become more efficient." He finds better opportunities online and via live games in places like Macau, where, he acknowledges, the action is already drying up. "Public opinion is that you can go to Macau and crush people. But once everybody knows about the good games, they're not that good anymore."
Where is the next good place? "If I knew," says Torelli, "I wouldn't tell you."
For one weekend in late August, a clutch of young players agrees that the good place is Fort Lauderdale, Florida. Promises of lofty sums bring them to the Seminole Hard Rock Hotel & Casino there. The locale may not brim with alluring exoticism, but a $5,000 rebuy tournament, with a guaranteed prize-pool of $10 million, coupled with the so-called Alpha8 (a $100,000 buy-in event that the World Poker Tour will be shooting for TV), provide plenty of inducement. "A big cash in one of the high-roller events is significant for me," says Isaac Haxton, an online pro who plays the Internet's biggest games, coolly enduring six- and seven-figure swings. "Besides, coming here and seeing some of my friends is part of the appeal. There is a social component to this."
Poker players who once lived in Las Vegas have become globally scattered. For Haxton, a visit to America now stands as a bit of a novelty. After his world was rocked by Black Friday—the night of April 15, 2011, when online poker was shut down in the United States—Haxton briefly considered getting a straight job. After all, he has a degree in computer science and is widely regarded as one of the game's brainiest players. But then he thought better of it and realized that if he wanted to continue earning massive sums of money as a poker player, he'd have to leave America and be where online poker is legal or at least tolerated. Live games were simply not his forte. Sometimes it means coming up with jerryrigged solutions, like the time he intentionally laid over in Vienna, checked into the airport hotel and stayed there long enough to play PokerStars' World Championship of Online Poker.
His wife scoped out the Mediterranean island of Malta, and surprised herself by actually liking the place. Best of all, for Haxton and his wife, there were no restrictions on how many days in a row you stayed there without being a full-fledged citizen. "Then the day we got there, they changed the permanent residence rule; you needed to give the government half-a-million Euros," he recounts. "Now we stay there for 90 out of every 180 days and spend a lot of our time in Hong Kong and Vancouver"—locales where Haxton can play all the online poker he wants. Nevertheless, Haxton acknowledges that leaving the poker cocoon of Vegas and living in a strange land overseas has not been completely seamless: "I can't just find someone to hang out with whenever I want, I eat more meals alone, I spend more time reading and playing games on my computer. There's not all that much to do in Malta…" His voice trails off before he shrugs and brightly adds, "But I'm a pretty boring guy anyway."
While he enjoys the traveling and acknowledges that it's something he never would have done if not for Black Friday, Haxton says that it takes something of a toll on him. He spends too much time playing highest stakes online poker in hotel rooms, setting his laptop computer on crummy desks, sitting on chairs that are not designed for 12-hour sessions of grinding and missing the giant computer screen that he uses at home. "I've already bought a big monitor that I am keeping at a friend's house in Vancouver and will move it to the hotel room," he says. "I probably will do the same with a good desk chair. Bad ergonomics wear on you after a while."
Joseph Cheong, the diminutive poker pro, looks too young to smoke after he busts out of the $100,000 buy-in tournament. He seems basically emotionless, shrugging off his loss by saying, "At least I got my money in good." He's barely left his seat before being handed a cigarette and whipping out his iPhone. Cheong scans the small screen, looking for a flight he can catch that night, hoping to leave Lauderdale and head to Los Angeles where the Legends of Poker Main Event will soon take place. The only remaining flight leaves in 80 minutes, and he realizes he'll never make it. So, instead, Cheong arranges to join a German pro, who also busted out, for dinner at Market 17. "It's the best restaurant in Fort Lauderdale," says Cheong. "Everything is organic and local."
He acknowledges that eating well is one perk of traveling the circuit—which can easily run $200,000 a year in expenses alone, before even factoring in tournament entry fees—but he can't come up with any place where he has particularly enjoyed dining. Nor does he name a favorite city and offers Hotel Arts Barcelona only after being pressed for a favorite place to stay. Cheong makes the whole thing sound like a blur of casinos, random hotel rooms, nights of partying and gambling in the pit. Lately Cheong has been partial to baccarat for $1,000 per hand. He admits that it is an expensive habit, but it's all helped along by the fact that he finished third in the 2010 World Series of Poker Main Event for $4.13 million. Since then, he's won an additional $4.5 million or so.
You must be logged in to post a comment.
Log In If You're Already Registered At Cigar Aficionado Online