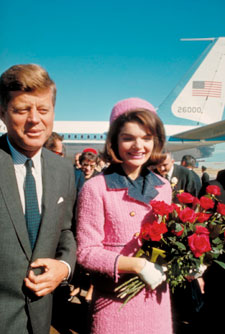 Art Rickerby/Time Life Pictures/Getty Images
President John F. Kennedy and First Lady Jacqueline Kennedy arrive in Dallas on a political trip.
The Darkest Day
Fifty years after the assassination of President John F. Kennedy and unsubstantiated conspiracy theories still swirl around. In the new December issue of Cigar Aficionado, contributor Peter Kornbluh explores some of those conspiracies. Below is an excerpt from the article.
On the morning of November 22, 1963, a CIA operative named Nestor Sanchez arrived in Paris carrying a Paper Mate pen that contained a hidden hypodermic needle—a Cold War weapon specifically created by the agency's Technical Services Division to kill Fidel Castro. At a meeting in an undisclosed location later that day, Sanchez provided the converted pen to a Cuban military officer—codenamed "AMLASH"—who was the CIA's highest level asset in Cuba. The two discussed how to fill it with a deadly poison called "Blackleaf 40." But AMLASH considered trying to prick Castro with a rigged pen to be a suicide mission; instead he requested a high-powered, long-range, sniper rifle. As the two left their meeting, they received word that John F. Kennedy had been assassinated in Dallas. "It is very likely," a top secret CIA history on plots to kill Castro later emphasized, "that at the very moment President Kennedy was shot a CIA officer was meeting with a Cuban agent in Paris and giving him an assassination device to use against Castro."
On that same day and at that very same moment, some 5,000 miles away in Cuba Fidel Castro was meeting with an emissary sent by President Kennedy to offer a possible rapprochement between Washington and Havana. The Cuban leader and the president's "messenger of peace"—a French journalist named Jean Daniel—had just finished a lunch of freshly caught fish.  They were discussing the potential restoration of normalcy in U.S.-Cuban relations when Castro received a phone call reporting that Kennedy had been shot. "This is terrible," Castro told Daniel, realizing that his mission of peace had been aborted by an assassin's bullet. And then Castro predicted: "They are going to say we did it."
Fifty years after the death of the president in Dallas, the confluence of these dramatic, but coincidental, events on November 22, 1963, continues to provide fodder for a range of assassination conspiracy theorists who place Cuba at the center of their theories.  From the right, conspiracy buffs have postulated that Fidel Castro managed to manipulate a revolutionary wannabe named Lee Harvey Oswald into killing Kennedy before Kennedy could kill Castro; from the left, numerous theories speculate that the CIA and other nefarious national security operatives assassinated the president because he had become "soft" on Communism—particularly in Cuba—and wanted to end the Cold War. After five decades of endless investigation and unproven hypotheses there remains little evidence to challenge the conclusion of the official investigative commission led by Chief Justice Earl Warren: Oswald, acting alone and for his own reasons, killed JFK. Nevertheless, Cuba and Kennedy's policies toward the Cuban revolution remain a central part of the public fascination with the "whodunit" of the murder of the president.
For the full article, pick up a copy of the new December issue of Cigar Aficionado, on newsstands now.
Comments
2 comment(s)
Guy Buscema — Calvisson, Gard, France, — November 9, 2013 4:04am ET
---
Guy Buscema — Calvisson, Gard, France, — November 9, 2013 4:17am ET
---
You must be logged in to post a comment.
Log In If You're Already Registered At Cigar Aficionado Online