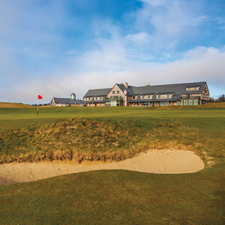 With no major city within a two-hour drive of Bandon Dunes, and the closest Interstate highway more than an hour away, most golfers opt to stay the night at the property.
The Dreamer
Greeting card magnate Mike Keiser's love of links golf has led him to create some of the world's greatest new courses
Mike Keiser went to the ends of the earth to satisfy his passion for links golf. He built the Bandon Dunes complex on the remote southwest coast of Oregon. He built Barnbougle Dunes and Lost Farm on the island of Tasmania. He built Cabot Links and is building Cabot Cliffs on the island of Nova Scotia.
Yet where he started it all, the nine-hole Dunes Club in New Buffalo, Michigan, is by comparison a pitching wedge away from civilization, an hour and a half from his hometown of Chicago.
But the Dunes Club is the most difficult to find, tucked off a residential street in this Lake Michigan beach community. There is no sign for it, or sign of it, from the lane that passes by the tiny entrance. There is a marker with the street number on it, but that's it. And if you figure out where to turn and how to maneuver a couple of hundred yards, you will find a tiny clubhouse without opulence or grandeur or much of a locker room, pro shop or restaurant.
This is just how Mike Keiser likes his golf. And it's how he has gone about changing, in his special way, the golf landscape in America, Australia and Canada. Keiser, the greeting card magnate turned maestro of remote golf, went back to the basics of the game, surrounding himself with his "genius architects" to build links golf courses where they weren't supposed to succeed, except they did, and rather grandly.  He has proved that if you build it, and build it well, they will come—even to the ends of the earth.
"I won't call myself a missionary now that you and I and anyone paying attention knows that Americans like links golf," says Keiser. "I think it's also good for golf. Given all the modern courses built since World War II, without characterizing them as awful—which I could—they are hard and not fun. As long as I can find sites that lend themselves to links golf, I feel almost duty-bound to pursue it."
And pursue it he has. Bankrolled with the bounty of a company founded with a friend in the early '70s—Recycled Paper Greetings—Keiser has built five courses at his Bandon Dunes complex that hugs the Pacific at a place you can't get to—except thousands do. Tasmania? Why would anyone go there for golf? Now that there are two spectacular courses, golfers are coming from near and far. Nova Scotia? For lobsters and cod, maybe, but Keiser has hooked a boatload of golfers who are making the voyage. Yet it is on this piece of land near the oceanic expanse of Lake Michigan that Keiser built his first course. It was an afterthought.
It was the late '80s and Keiser was well into his second decade as co-owner of Recycled Paper Greetings, a company he formed with Amherst College friend Phil Friedmann in 1971. They had latched onto the "green concept" as it became more and more a part of the public consciousness. They would make greeting cards out of recycled paper, Christmas and birthday greetings from the detritus of newspapers, magazines and cardboard boxes.
It was then he found his first "genius," or rather, she found him. Sandra Boynton was a Yale graduate with a gift for whimsy. She submitted designs to the fledgling RPG in 1973. Keiser loved her work and she went on to design more than 5,000 cards for the company, which found itself a burgeoning enterprise that, while trailing Hallmark and American Greetings by a factor of many millions, was churning out a healthy profit.
"My formula, and I would give it to anyone who thinks they are entrepreneurial: find a genius," says Keiser, "In the greeting card business, we found—well she found us—but we found Sandra Boynton who is a genius. Finding her made us geniuses."
There was enough profit by the '80s for Mike and wife Lindy to build a Lake Michigan weekend home. And when Keiser found out that a 60-acre parcel nearby was being considered for a condo development, he pounced. "It was strictly a defensive move," said Keiser during the round of golf this August at the Dunes Club. "I just wanted to keep those condos from being built in my backyard. The land was incredibly cheap, I offered them cash [$350,000], and I had it."
You must be logged in to post a comment.
Log In If You're Already Registered At Cigar Aficionado Online