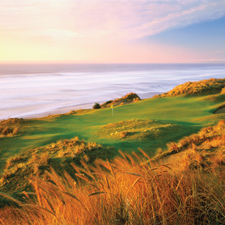 Bandon Dunes in Oregon has five courses, including the No. 1 rated course in the United States, Pacific Dunes, as seen here from the 11th hole.
The Best Golf Resorts
The top 35 golf destinations in the United States, the Caribbean and Mexico
(continued from page 1)
3. Cabo del Sol, Mexico
The original Ocean Course here was a turning point in golf history—it helped put Jack Nicklaus on the map as top brand-name resort course designer, and ushered in Mexico as a top golf destination. With its signature holes along the coast, strong finishing stretch, and dramatic landscape—the tip of Baja is the only place where the Sonoran desert meets the sea—its importance to the game cannot be overstated. Today there are two courses, including Tom Weiskopf's desert addition, two hotel options and a third condo resort. "My favorite resort course in Mexico, with a great seaside location and my favorite finishing holes in golf—followed by a cold Pacifico at the end of my round," says travel agent Chad Clark, who has played just about everywhere. Cigar Aficionado's Larry Olmsted notes that, "There are a ton of reasons to visit Cabo, to fish, escape, golf, dive or party, but if you are going for any reason and you are going to play one round of golf, this is it—and always has been."
The Rest of the Best
4. Punta Cana Resort & Club, Dominican Republic
5. Sandy Lane, Barbados
6. One & Only Palmilla, Mexico
7. Cap Cana, Dominican Republic
8. Ritz Carlton Reserve, Dorado Beach, Puerto Rico
9. Mayakoba, Mexico
10. Abaco Club, Bahamas
Best U.S. Golf Resorts By Category
Best Spa At A Golf Resort
1. Kohler Waters Spa, The American Club, Wisconsin
Maybe the fact that its owner, Kohler Co., makes the equipment many other top spas use gave it an unfair edge, but our panelists didn't care. "The best spa without a doubt is at the American Club. Fantastic attention to detail in one of the most impressive hotels in America," says Quentin F.J. Lutz, believed to have been the youngest person ever to play the Top 100 Golf Courses of the World and founder of The Outpost Club, the first invitation-only golf society in the U.S.. "You'll revel in marble floors, out-of-this world showers, hot tubs with mosaic tiles, and an indoor pool with its own waterfall. This gorgeous therapeutic and pampering sanctuary features a glass-enclosed rooftop deck and incredible whirlpool, steam and sauna rooms. So many times showy facilities trump actual therapies—not so here—services are first-rate," says Golf Odyssey's David Baum.
2. The Broadmoor, Colorado; 3. Grand Del Mar, California
Best Dining At A Golf Resort
1. Grand Del Mar, California
Southern California's only Five-Star/Five-Diamond restaurant, Addison is routinely ranked the best fine-dining room in the San Diego area, but the posh Grand Del Mar has several other options, from casual but delicious clubhouse dining to Amaya, a fun Mediterranean eatery that has proven so locally popular it just spun off a stand-alone location in downtown La Jolla. "Featuring the contemporary French cuisine of acclaimed Relais & Chateaux Grand Chef William Bradley and a Wine Spectator Grand Award winning list, it is one of my favorite restaurants in the U.S.," says uber discerning travel agent Anne Scully. Michael Patrick Shiels was similarly wowed: "Chef William Bradley's Addison is a five-star experience with ingredients grown on property. The thrill of sitting down at the table is similar to the first tee anticipation on Grand Del Mar's Tom Fazio golf course."
2. (tie) The Broadmoor, Colordao; Wynn Las Vegas
Best Luxury Lodging At A Golf Resort
1. The Resort at Pelican Hill, California
"Inspired by the design principles of Italian Renaissance architect Andrea Palladio, Pelican Hill transports guests to a Mediterranean-style village. The resort pool—the largest circular pool in the world—enjoys a coliseum setting, and the water is impossibly blue thanks to a million iridescent glass mosaic tiles on the pool bottom. Guest bungalows and villas are terraced into a hillside overlooking the ocean. One-bedroom bungalows start at 847 square feet and instead of packets of coffee, your bungalow comes with a coffee grinder and beans. If you're staying in a villa, you can have your butler do the grinding for you. No other golf sanctuary surpasses Pelican Hill's combination of aesthetic beauty, comfort, opulence and dedicated service." Many panelists agreed and several mentioned the coffee, but none said it more eloquently than Golf Odyssey's David Baum.
2. (tie) Four Seasons Hualalai, Hawaii; Grand Del Mar, California
Best Golf Resort For Couples
1. Four Seasons Lanai, Hawaii (Manele Bay & Lodge at Koele)
Now owned by software billionaire Larry Ellison, these twin resorts each have a (stunning) golf course and full resort amenities, but since they share everything between all guests, with shuttles back and forth, they are essentially one resort—that happens to occupy a nearly private island paradise. There are secluded beaches access by four-wheel drive, gorgeous hikes, a marine sanctuary for snorkeling and swimming, whale watching cruises, spas, and most of all, secluded and very private relaxation. "The place to stay if you want to feel like Bill Gates (who rented the entire island for his wedding here) and golf and stroll among quiet luxury of the highest order," says Jeff Wallach.
2. (tie) The Boulders, Arizona; Four Seasons Hualalai, Hawaii
Best Destination Golf School/Academy
1. (tie) Grand Del Mar, California; Reynolds Planation, Georgia
When it comes to state-of-the-art, these two take the cake. Grand Del Mar has a unique putting lab that will show you just how bad you really are, every kind of swing analysis and launch monitor, several different private and specific instructional areas, and is home to several academy options: the only location of short game guru Dave Stockton's private putting clinics; Glenn Deck's full-service Grand Golf Performance Academy; Dave Pelz scoring schools; and Vision54 three-day immersion clinks. "It's Glenn Deck's teaching academy, the hotel's opulence, and dinner at Addison that make this place sing," says Mike Hiller. Reynolds Planation has one of the nation's most highly regarded multiday golf academies led by renowned instructor Charlie King, plus the East Coast outpost of the TaylorMade Kingdom, with the proprietary and ultra-high tech MATT swing analysis system used on TaylorMade's many sponsored Tour pros. It offers incredible feedback and the most precise club and shaft fitting available. "Charlie King, who runs the Academy, is the rare instructor that actually makes golf instruction fun. The Kingdom at Reynolds Plantation, with its TaylorMade fitting system, is possibly the best place to be fit for clubs and get great instruction anywhere in the U.S.," says Jeff Wallach. Cybergolf's Steve Habel agrees: "With the TaylorMade Kingdom for custom club and ball fitting and the Reynolds Golf Academy, it's one-stop shopping for game improvement."
3. La Qunita, California
Best Single-Course Golf Resort (18-holes)
1. Grand Del Mar, California
To say our panelists loved this resort is an understatement, and with wins for food, spa and lodging it was almost inevitable it would take this category—even if golf might be the least impressive feature of the resort. It is a solid and quite private Tom Fazio layout, but it gets overshadowed because everything else here is that good, and. "Fazio's gem nestled in the Los Peñasquitos Canyon Preserve features dramatic holes with a variety of elevation changes. My clients love everything about this place—the spacious rooms, the golf, pool, the beautiful equestrian center and the FOOD!" says travel agent Chad Clark. "Facilities, from the spa to the tennis complex to the equestrian center, are first-rate," agreed David Baum.
2. Mauna Kea Beach Hotel, Hawaii; 3. Wynn Las Vegas, Nevada
Best Golf Resort For Non-Golf Activities
1. The Greenbrier, West Virginia
America's answer to Scotland's famed Gleneagles, this grand resort has just about every activity you could think of—and many you wouldn't, from off-road driving to falconry, river rafting to shooting, horseback riding to ropes courses, a menu of some 55 activities on 10,000 acres. There is the "bunker," a long-secret emergency alternative White House you can tour. Chad Clark notes that "Phil Mickelson may not be able to make the cut at The Greenbrier's PGA Tour event, but he brings his family because there's so much to do. Besides every imaginable outdoor activity, indoor options range from bowling to billiards, tours of the Cold War Bunker and cooking classes. Now there's a casino as well, but in keeping with the Greenbrier's genteel ways, only resort guests can access it, the slot machines are quiet, there's no smoking and gentlemen must wear jackets."
2. (tie) Sunriver, Oregon; Walt Disney World, Florida
You must be logged in to post a comment.
Log In If You're Already Registered At Cigar Aficionado Online