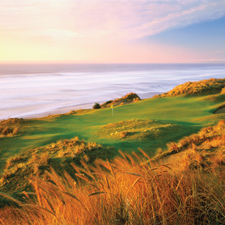 Bandon Dunes in Oregon has five courses, including the No. 1 rated course in the United States, Pacific Dunes, as seen here from the 11th hole.
The Best Golf Resorts
The top 35 golf destinations in the United States, the Caribbean and Mexico
Bandon Dunes. Pinehurst. Pebble Beach. Kiawah Island. Casa de Campo. For golfers, those names, some new, some old, aren't just places, but the links versions of Mecca. They are destinations in the United States, Mexico and the Caribbean that epitomize what today can only be dubbed a "New Golden Age" for golf, one that combines golf resorts and travel.
While very few new golf resort projects have been undertaken recently—there have actually been more golf course closings than openings in recent years—those few have tended to be excellent, as only the best can draw enough golfers to make economic sense today. At the same time, amidst stiff competition, many existing and classic golf resorts have expanded, adding courses, or making dramatic improvements—sometimes, spending millions, even hundreds of millions of dollars. In a very real sense, there has never been a better time for a golf vacation. The big question is where to go?
We've answered that by polling a panel of experts, who have rated the 25 Best Golf Resorts in the United States and the 10 Best in the Caribbean and Mexico. They've also tackled quandaries such as which resort has the best spa, cuisine, luxury accommodations, is best for families, and so on. For over a decade, our uniquely critical travel surveys have taken a much different tact than the travel magazines' standard reader polls, which can be easily influenced by the hotels and resorts themselves, along with advertisers, while relying primarily on unvetted participants who may or may not have actually been to the places they vote for. In sharp contrast, we have assembled a dream team of bona fide experts in the field, featuring some of the world's best luxury travel agents, golf tour companies, golf journalists and editors, avid golf travelers and industry insiders.
That we are living in a Golden Age of golf travel is evidenced by the fact that an entirely new resort, Florida's Streamsong, opened just last December, cracked the list as the eleventh best in the nation. Likewise, the ultra-luxury Ritz-Carlton Reserve at Dorado Beach, Puerto Rico, the first of Ritz' top-tier Reserve brand in North America, which also opened last year, made the Caribbean top 10, while Puerto Rica's Royal Isabela, also new last year, barely missed the cut—and only because not enough people have seen it yet.
The top-rated resort in the United States, Bandon Dunes opened in 1999, but its two newest courses debuted last year and in 2010, making it a true weeklong destination resort. Second-place winner Pinehurst undertook an exhaustive and critically acclaimed renovation of its marquee Number Two course, designed originally by Donald Ross, last year that immediately catapulted its ranking, while sixth-place finisher Sea Island has built two entirely new hotels in the past decade, both rated the highest possible Forbes Five-Stars (formerly Mobil). It seems in the world of upscale golf travel that if a resort is not moving forward it is losing ground. Several panelists specifically cited the recent overhaul of both hotel and golf at Hawaii's Princeville as the reason they ranked it as high as they did. Perhaps the biggest stunner of all was Southern California's amazing Grand Del Mar. Only six years old, the resort is a triple Forbes 5-Star winner for lodging, dining and spa, and it crushed the competition, winning for Best Single Course Golf Resort and Best Dining at a Golf Resort, while also making the podium in the spa and luxury lodging categories.
For purposes of this poll, we defined a golf resort as those that had lodging, hotel services and golf under one roof, nixing hotels that have some sort of access to an off-site course or courses with associated lodging someplace else, which eliminated places like Las Vegas' excellent Shadow Creek, a longtime favorite of our panelists. Not surprisingly, resorts with multiple courses fared best, since they are best suited for longer destination golf trips, and seven of the 10 Caribbean and Mexico winners have more than 18 holes, while the top five U.S. finishers each have at least four courses. Notably, these five also all feature caddies and walking to varying degrees, something our voters noted over and over as a big plus. But quantity does not mean quality, as all five of these also have at least one marquee course widely rated in the nation's top 10, while several notable resorts with three, four or even five courses failed to make our cut. Many such resorts with multiple mediocre courses were beaten by properties with a single top-flight 18-hole course. If there was one trend we saw clearly in the voting, it is that the boutique golf resort, with as little as one course and a dozen luxury rooms (or villas!), plus white-glove service and excellent cuisine, is on the rise. This was evidenced by the wins of places like the Grand Del Mar, Mauna Kea Beach Resort, Mayakoba, the Abaco Club, Wynn Las Vegas and strong showings by CordeValle, the Four Seasons Nevis, Virginia's Primland, and Caribbean newcomers Royal Isabela and CuisinArt Golf Resort & Spa.
Our panelists cast votes far and wide, from Nebraska to Nicaragua, but they reached near consensus on a couple of things. Oregon's Bandon Dunes was not just the No. 1 resort, it received nothing worse than a second-place vote, while second- and third-place finishers Pinehurst and Pebble Beach each had almost exclusively top three rankings on the ballots cast. Likewise, Casa de Campo ran away with the top spot in the Caribbean and Mexico by a wide margin.
If reading this makes you want to take a golf vacation, our panel of experts knows just where you should go.
Top 25 Golf Resorts in the United States
1. Bandon Dunes, Oregon
Not exactly a surprise, this larger-than-life links golf throwback on the Oregon coast has three of the Top 10 public courses in the United States on Golf Magazine's current list—including No. 1, Pacific Dunes. Its "worst" eighteen and fourth full-sized layout is ranked 15th in the nation, and it also has a fantastic par-3 course. However, Bandon Dunes is not for everyone—all the courses are walking only, no carts, the weather can be raw, and the focus is firmly on golf, not luxury lodging, amenities or cuisine, though the simple approach to dining is still delicious. For the golf purist it is impossible to beat, but those seeking Michelin-starred meals, swank suites or a slate of activities for non-golfing companions might look elsewhere.
You must be logged in to post a comment.
Log In If You're Already Registered At Cigar Aficionado Online