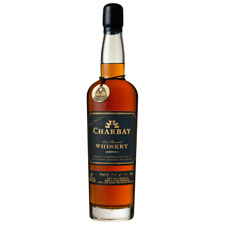 Charbay Hop Flavored Whiskey Release III Barrels 8-15, 17 & 18
Charbay's Beer and Whiskey Connection
(continued from page 2)
NOSE: Its huge nose ricochets between voluptuous vanilla/toffee/caramel notes and tropical fruit, pears, cherry and orange.
PALATE: The whiskey explodes into the mouth with a candied sweetness—cocoa, wild cherry, oranges, maple sugar—tempered (or is it accentuated?) by Bourbon-like flavors of vanilla, caramel, nougat and walnuts.
FINISH: If you lay back and let it wash all over you like waves rolling on the shore, its rainbow of flavors all come rushing back on the finish. It's an insistent sleigh ride of a whiskey. And to think it was born of pilsner.
CIGAR PAIRING: Montecristo 75th Aniversario Churchill (Dominican Republic, 7 inches by 54 ring gauge; $18.50; 90 points, Cigar Aficionado, August 2011) Dark and oily with some veins to the wrapper, this sweet, toasty cigar is balanced by some spicy overtones and a dark-roasted coffee finish. With the "S" whiskey, the toast on the cigar immediately turn to rich nuts, while the spice character developed some charming nuances. The whiskey's fruit became rounder out with some savory/meaty character.
Paired against the R5 whiskey, the Montecristo was a tad overwhelming for the subtly of the spirit. While not damaging it, the cigar muted some of the whiskey's more understated fruit notes. On the other hand, the coffee flavors of the cigar became more pronounced.
The marriage with the Release III was a match made in heaven. Both components followed each other step for step in a sexy tango of mutual enticement. The cigar was supremely endowed by the Charbay with a sweetness that enhanced its other attributes. The finish on whiskey seemed to lengthen and suggest another puff to keep the seduction going longer and longer. The cigar took on an exquisite leather quality, not before apparent.
You must be logged in to post a comment.
Log In If You're Already Registered At Cigar Aficionado Online