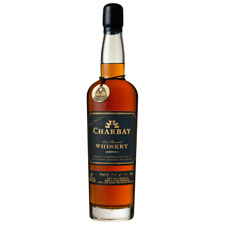 Charbay Hop Flavored Whiskey Release III Barrels 8-15, 17 & 18
Charbay's Beer and Whiskey Connection
(continued from page 1)
NOSE: Fruity and herbal aromas, with the distinct sense of standing in a grain field in late August.
PALATE: Hard candy, lemons and honey burst onto the palate and are followed by the advertised hoppy flavor. A definite taste of the stout comes through. Develops an orange-peel note.
FINISH: Very deep, luxuriant finish in contrast to the fresh flavors that inform the beginning of the experience. Dried fruit and apple meet chocolate
Charbay R5 Hop Flavored Whiskey Lot: R 5 511 A (99 proof, or 49.5 percent alcohol by volume; aged 29 months; $79 a 750-milliliter bottle)
APPEARANCE: Strong yellow color with quick, fat legs.
NOSE: Rich, fruity nose, with pears and tropical fruit, followed by herbs.
PALATE: Tropical fruit proceeds straight to the tongue with mango and passion fruit. Then the beery flavors appear with a rounding malt flavor.
FINISH: A zesty finish—something like pine needles or eucalyptus—layers in with the insistent fruit quality of this whisky.
Charbay Hop Flavored Whiskey Release III Barrels 8-15, 17 & 18 (132.4 proof, or 66.2 alcohol by volume; aged six years in oak; $410 a 750-milliliter bottle)
APPEARANCE: Lush cherry-wood color with tiny legs that seem like they'll never come down.
You must be logged in to post a comment.
Log In If You're Already Registered At Cigar Aficionado Online