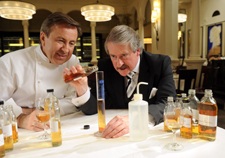 Chef Daniel Boulud, left, collaborated with The Dalmore's Richard Paterson to create his single-malt Scotch.
The Dalmore and Boulud Collaboration Whisky
(continued from page 1)
PALATE: The hearty nose gives way to dessert flavors in the mouth as tangerine, orange, a hint of cherry and some praline fill the palate. Then comes a rush of chocolate and toffee, followed by another pass of fruit, this one meatier with pears and peaches.
FINISH: On the finish, all that fruit and chocolate blend and are joined with the nuts and savory, hearty character of nose. Then there's a surprise burst of vanilla as though it's crying out for some crème brulee to top off the experience.
CIGAR PAIRING: Fonseca Cubano Exclusivo Robusto (Dominican Republic, 5 1/2 inches by 52 ring gauge; $7.20; 91 points, December 2013 Cigar Aficionado) Box-pressed with a tawny-colored wrapper that's silky to the touch. The smoke is rich and nutty with a cocoa sweetness that overlaps subtly spicy ground red pepper notes and a hint of cedar. We chose both cigars for their chocolate qualities in lieu of an actual dessert-and neither disappointed. It was the spice quality, however, that was the bonus to this pairing. The peppers on the cigar elicited even greater depth to the whisky, drawing out some rounder, deeper notes that The Dalmore was only flirting with before. The whisky paid off the debt by boosting the chocolate flavors on the Fonseca to new levels, turning it into a chocolate sundae of a cigar with sprinkles of nuts and a hint of vanilla. A win/win bargain of flavors.
Juan Lopez Selección No. 2 (Cuba, 4 7/8 by 50 ring gauge; £15.17; 94 points, December 2013 Cigar Aficionado) Dark and alluring in appearance, the lush draw of this cigar leaves clear, distinct impressions of licorice and coffee bean balanced by a complex interweaving of leather, earth and chocolate notes. Again the spice was the surprise. The licorice of the Juan Lopez beelined to similar flavors previously latent on The Dalmore, making the coquette more worldly-wise and complex-the touch, if needed. The whisky succeeds in turning the cigar into an even more perfect end to a perfect evening, affording its lush tones extra meaning and sweetness. Save this one for that special occasion when perfection is required.
You must be logged in to post a comment.
Log In If You're Already Registered At Cigar Aficionado Online