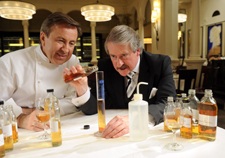 Chef Daniel Boulud, left, collaborated with The Dalmore's Richard Paterson to create his single-malt Scotch.
The Dalmore and Boulud Collaboration Whisky
It used to be you had to go to one of the Daniel Boulud restaurants in New York City or travel to Maison Boulud in Beijing to sample the world's first single-malt Scotch to be created in collaboration with a Michelin Star chef. Now that opportunity may be coming to a retail liquor store near you.
The Dalmore Selected by Daniel Boulud is described as a "bespoke" whisky and Richard Paterson, master distiller of The Dalmore, personally partnered in the assemblage. Boulud has said that he relished the opportunity to participate in a whisky creation. "It's rare that a chef gets the chance to craft a single-malt Scotch based on his own palate and flavor profile."
The world-renowned chef also saw as it as a way to bring extra value and uniqueness to the dining experiences at his restaurants. "I was looking for a fusion," he said. For that privilege guests pay $50 a glass. At retail, the malt will be available at $200 a bottle. However, the supply is limited to 1,000 bottles. Sherry Lehman Wine & Spirits of New York, Binny's Beverage Depot of Chicago, Spec's in Austin, Texas, and Wally's Wine & Spirits in Los Angeles are some of the few outlets.
Boulud recently said in a seminar with Paterson that he "was taken by how complex it is to marry whisky." The custom malt was created over a period of six months and three individual tastings as Paterson selected 10 cask samples in 10 different woods with an eye toward matching the restaurants' cuisines. Of those, Boulud chose three samples, which had been variously aged in Muscatel, Madeira and Port wine casks.
Paterson then blended those casks in a number of different ways with different percentages from each sample. Bould then made his selection for the final whisky. The ratio was a quarter Muscatel, a quarter Madiera and a half Port cask aging. The whisky was further married in a cask for a year before bottling.
The Dalmore is widely known as a dessert malt, and Boulud describes his assemblage as a perfect complement to fine cuisine, dark java coffee or bitter chocolate. However, we decided to pair it with cigars.
(Cigar pairings on next page)
The Dalmore Selected by Daniel Boulud (88 proof, or 44 percent alcohol by volume; no age statement; $200 for a 750 ml. bottle)
APPEARANCE: Deep amber, almost red color. Very fat legs that reluctantly stroll down the glass.
NOSE: The aroma speaks of a restaurant environment with savory notes of olive oil, nuts, caramel, some meaty fruits and truffles. However, there's a modicum of flowers or peat.
You must be logged in to post a comment.
Log In If You're Already Registered At Cigar Aficionado Online