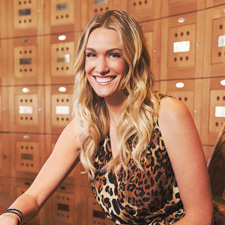 Gorse, pictured in the humidor room at the Grand Havana Room in Beverly Hills, is a frequent and enthusiastic cigar smoker.
Tar Heel Tomboy
Ashlan Gorse reached the top of celebrity journalism, and is now looking for a new challenge
(continued from page 3)
"I wasn't sure I was going to be able to do it, but if you just walk in the door and talk to them about your day, about interviewing celebrities or some of the stories I'm working on; if you can make them forget they're in the hospital . . . They're just kids. And I think everybody forgets they're just kids. They're very sick, but they want to still go out and have fun. Let them forget for a day that they're sick."
After working seven years covering show biz, Gorse says she wasn't "going to grow any more. I had done everything." She liked being on the red carpet interviewing the glamorous celebs attending awards ceremonies, but she hated the 22-hour days she had to work.
"You know, like with any job, you want to do something new. I wanted to do adventure. I love meeting new people. I want to learn about different cultures. I've gone shark diving. I've jumped out of airplanes. I really want to go on a safari. And I want to go see the pyramids [in Egypt]. I want to introduce people to places they wouldn't think of going even if it's not that far away."
Gorse explains that the show she and Cousteau are developing will explore the world with a focus on environmental responsibility. She says her relationship with Cousteau caused her to think more about that.
"I was always a responsible person when it came to the environment, but some of those environmental problems that I wouldn't have thought about before—and I don't think I would've—I have access to them and the research and a whole encyclopedia of knowledge through Philippe, who is really good at answering all my questions. If he doesn't know the answer, he'll find it."
Gorse is also searching for her own answers. She knew early on which career she wanted and got it. Now she has decided she wants something else.
"I want to go out and I want to tell people how cool our world is. Real reality. Cool reality. And if that's something I can do for a living, that's cool."
Ideally, that will leave little, if any, time to talk about Bieber.

Alejandro Benes lives and writes mostly in Southern California.
Comments
1 comment(s)
Guy Buscema — Calvisson, Gard, France, — December 31, 2013 9:32am ET
---
You must be logged in to post a comment.
Log In If You're Already Registered At Cigar Aficionado Online