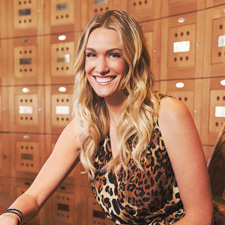 Gorse, pictured in the humidor room at the Grand Havana Room in Beverly Hills, is a frequent and enthusiastic cigar smoker.
Tar Heel Tomboy
Ashlan Gorse reached the top of celebrity journalism, and is now looking for a new challenge
(continued from page 2)
After a year at Life & Style, Gorse heard "E!" was looking for people for its online service. "I had been on 'E!' because of the work with the magazine, so they knew me. And when I went to audition, they called me two hours later and offered me a job." After a year, Gorse got a big break.
"I was working at 'E! News Now,' the online video service of 'E! News,' " Gorse explains, "and they asked me that Christmas if I wanted to substitute anchor. And I said, yes." She makes "yes" sound like "Duh!" She was an anchor/correspondent from December of 2008 until mid-2013.
If you've been a devotee of entertainment news shows over the past few years, you've likely seen Gorse on TV or on the web. In the world of Hollywood reporting, the reporters are interviewed by other reporters about what they're reporting on, and that's why you can find the very adept Gorse all over YouTube today. It's a cross-promotional, self-propagating kind of existence. You would not be surprised that over the past few years Gorse has said things like, "I love awards shows. Awards shows are what I live for," she says on the video documenting a photo shoot. "It really is Hollywood at its best." Gorse is asked probing questions like what her best interview was, and she tells how she reacted to it, "Holy crap!" Gorse says. "I just interviewed Meryl Streep and she said I was good." She is asked what her worst interview was and sounds quite candid, saying, "Demi Lovato made me wait for her for six hours once." In Canada. In the cold. And perhaps the most incisive question of all: "If you could home-wreck anyone . . . ." And before the question is finished, Gorse answers, "Johnny Depp." Then she told of how Depp kissed her on the cheek after Gorse interviewed him.
At the 2013 Gracie Awards, honoring the accomplishments of women in media, Gorse was put in the position of answering what "inspirational" advice she would give the troubled celebrity Lindsay Lohan. Gorse didn't miss a beat and stayed positive.
"Stick with it, babe. You can do it." Very graceful and gracious.
Now, Gorse is intent on reinventing herself as an "adventurer" and "content producer" in developing a travel show with Cousteau, who is a special correspondent for CNN International, as well as an environmental activist and consultant. The plans are not concrete yet, but Gorse says, "I just want to go and explore the world. This is the time to do that."
Gorse says she met Cousteau in 2010 while attending a speech he was giving at the Four Seasons in Beverly Hills. "He was giving a speech about the BP oil spill and my girlfriend was invited. Fortunately, I lived around the corner and I said, 'Okay, I'll go.' We walked in the room—and I'm a very tall person—and when he walked into the room, he was very tall and very handsome. I didn't even realize—my girlfriend hadn't told me who was talking—so I didn't even realize it was him. So, then we started talking and he asked me where I was from and I said, 'North Carolina.' And he said, 'Oh, did you go to Duke?' And in the middle of the Four Seasons—in the middle of the Four Seasons—I go, 'Fuck Duke!' And he said, 'Oh, so you went to Carolina?' And then he followed me around the room all night."
Spoken like a true Tar Heel deeply invested in the rivalry with Duke. While at UNC in Chapel Hill, Gorse, who says she looked up to Diane Sawyer because she was able to blend hard news coverage with entertainment reporting, was not shy about sharing what kind of journalism she wanted to pursue.
"When I was in college, I wanted to be an entertainment reporter. And nobody else wanted to do it. Even my professors said things like, 'There's seven of those jobs in the whole country.' These days, I get an e-mail, a message on Twitter or a question from a friend of a friend who says, 'Oh my God. I want to do what you do. How can I do it?' " But Gorse says the whole thing has gotten a bit old.
"So, it boomed. The saturation of pop culture and entertainment has completely exploded since I've been doing it. And it's great and it's fun, but you can only talk about Justin Bieber a certain number of hours in a day. And when I go to dinner parties all anyone wants to talk about is the Kardashians and Bieber and Amanda Bynes and Lady Gaga, which is fine, but that's what I talk about at work all day and I don't want to talk about it after that."
Gorse says she loved every bit of her job. She got to interview all the big stars: Johnny Depp; Meryl Streep; Cher. Gorse used her public perch to help with different charities and to visit children with cancer at the local children's hospital in L.A., telling the kids stories about their favorite celebrities.
Comments
1 comment(s)
Guy Buscema — Calvisson, Gard, France, — December 31, 2013 9:32am ET
---
You must be logged in to post a comment.
Log In If You're Already Registered At Cigar Aficionado Online