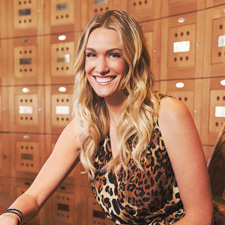 Gorse, pictured in the humidor room at the Grand Havana Room in Beverly Hills, is a frequent and enthusiastic cigar smoker.
Tar Heel Tomboy
Ashlan Gorse reached the top of celebrity journalism, and is now looking for a new challenge
(continued from page 1)
While living in New York, Gorse bought her first cigar. She was in a shop on the Upper West Side getting a gift for her father. "The guy was really helpful in helping me pick out a few cigars for my dad and he gave me two for myself.
"I started smoking cigars with my dad. My dad is just an awesome, fun guy. He had smoked cigarettes, but gave them up and started smoking those Swisher Sweets." Gorse laughs and recalls, "In high school, we would just sit in the backyard listening to crickets and I'd take a puff of his cigar every once in a while. As I got older, he'd start to give me my own. Once he was in Canada on a business trip and he brought back some Cuban cigars.  For me, smoking a cigar reminds me of the times being with my dad and being in North Carolina with the crickets."
On her own in New York, and with cigar training under her belt, good times were at hand. "I'd get with my girlfriends and we'd go on the roof of our building and smoke cigars and we thought we were so cool."
In 2006, Gorse left New York, spent two weeks in North Carolina figuring things out, and then she and her father drove to L.A. Gorse didn't have a job lined up, but decided it was time she "dove in."
"I figured that if I was going to do it," she says about pursuing her dream of becoming an entertainment reporter, "then I'd better go to where I could make it happen."  She had been on air some at MSNBC, but not much, and not long after she arrived in L.A., contacts she had made at her old job put her in touch with the people at Life & Style Weekly. She talked her way in.
"They didn't have anybody representing the magazine out here. They had an east coast editor, but they didn't have a west coast one and I convinced them to hire me. And they did. Literally, I became a talking head for the magazine. Anyone who wanted to know anything that was in the magazine that week, or if there was some breaking entertainment news, they would call me.
"I was on everything from the 'CBS Early Show' to CNN, Headline News, 'The O'Reilly Factor.' " Gorse laughs long and loud as she remembers. "It was the best experience. Awesome. The best experience possible." Living in Southern California, the mild weather gives Gorse more time for cigar moments. "I love a good buffalo steak, a great Cakebread Cab, then go outside and have some Port wine with a cigar."
"My go-to cigar brand is Davidoff. I always know what I am getting with them." Davidoff is also Gorse's dad's favorite, along with Cuban Montecristos "when he can get his hands on them."
"My preferred shape is corona or toro. I can't do the really big torpedoes because I don't have the patience or the time," Gorse explains. "After an hour or two—with my Port wine accompaniment—I want to drift off to sleep. Plus, I do think it looks kinda silly to see a woman holding a cigar that's twice as long as her hand and triple the size of her thumb."
Gorse says that just going to buy a cigar can be interesting. "When I walk into a cigar store or a cigar lounge, everyone just stares at me. You could hear a pin drop. I don't know if it's the height or the blonde curls, but I do tend to look a wee bit out of place. It's when I curl up next to the counter and start talking to the guy," and Gorse says it's always a guy behind the counter. "I put him at ease and he pulls out the reserves. I have three 20th anniversary Ashtons I'm waiting to break out. I think they're going to finally be smoked over the wedding weekend in France."
Comments
1 comment(s)
Guy Buscema — Calvisson, Gard, France, — December 31, 2013 9:32am ET
---
You must be logged in to post a comment.
Log In If You're Already Registered At Cigar Aficionado Online