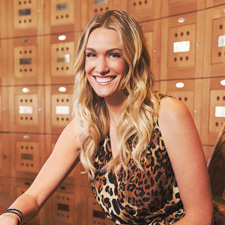 Gorse, pictured in the humidor room at the Grand Havana Room in Beverly Hills, is a frequent and enthusiastic cigar smoker.
Tar Heel Tomboy
Ashlan Gorse reached the top of celebrity journalism, and is now looking for a new challenge
Ashlan Gorse says she's a "tomboy." And a "Southern belle."
"I'm totally into cars. Crazy about cars," she says. Then she pauses, a brief panic in her eyes as if she might have forgotten some talking points, and rapidly adds, "And shoes. I love cars and shoes. And I'd like a glass of wine as well, but that's probably not advisable behind the wheel. I'm a tomboy, but at the same time I can be very girly."
Gorse, 32 years old, laughs before launching into a story about how she all but stalked BMW executives and the PR department in trying to jump to the head of the line two years ago to assure getting one of the few limited-edition, all-electric cars being manufactured. That didn't work, but she didn't give up.
"So I got online when the reservations opened at four o'clock in the morning, and I signed up and I got it. I love it. I love that little car. It's the Active E, in white. They only made 700. It's so fun to drive. All torque!" Gorse has to give the car back to BMW a little later this year. She has her eye on the new Tesla Model S. She previously test-drove the smaller Tesla roadster. "It goes zero to 60 in 5.6 seconds. You have to hold on to the steering wheel because of the force pushing you back into the seat."
Gorse, who grew up in Raleigh, North Carolina, is all about perseverance. She was, until very recently, what is broadly called a "TV personality," but that would not be precise. Gorse was a correspondent and anchor on "E! News" and is engaged to Philippe Cousteau (Yes, of that Cousteau family. Jacques Cousteau was Philippe's grandfather). The wedding is to be just outside of Paris.
"I'm an entertainment reporter," Gorse specifies while puffing on a La Aurora robusto at V Cut Cigar Lounge on Melrose Avenue in Los Angeles, where she has lived since 2006.  (She picked the cigar in honor of her late Siberian husky, named Aurora.) Gorse left the University of North Carolina in 2002 with a degree in broadcast journalism. She moved to New York City and got a job at NBC as a page. That led to gigs at "Access Hollywood" and MSNBC, where she learned the TV business as a field producer.
"I was the only woman doing that there, and I would go out and cover stories," she recalls. "I would show up in these cute little outfits. I would not give in when it came to fashion."
Gorse says she knew what she wanted to be the first time she saw Cindy Crawford front MTV's "House of Style." Gorse was 10 or 11 years old. The show, which debuted in 1989, featured a variety of supermodels and celebrities. It ran for 11 years focusing on models, music and youth culture. And she knew again when she saw another show.
"I was watching 'Wild On' with Brooke Burke, (Each episode featured a bikini-clad Burke sampling the food, culture and nightlife of exotic locales around the globe.) and I remember telling my parents, 'That's what I want to do, mom and dad!' And they were like, 'Um, okay, sure.' I'm just so lucky to be able to do it," Gorse told Beverly Hills Lifestyle magazine in November of 2011.
Gorse has done her share of modeling, and her looks and figure attract notice. She is 5'11" and has been featured in magazines that display the female form in relatively skimpy garb. At V Cut, Gorse is wearing wedge heels that add at least four inches in height. One of the patrons, a show biz agent, asks if Gorse plays for the Los Angeles Sparks, the local WNBA team.
Comments
1 comment(s)
Guy Buscema — Calvisson, Gard, France, — December 31, 2013 9:32am ET
---
You must be logged in to post a comment.
Log In If You're Already Registered At Cigar Aficionado Online