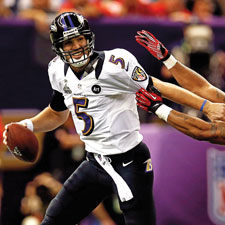 Baltimore Ravens quarterback Joe Flacco survived a brutal 49ers attack during Super Bowl XLVII. Can the best Baltimore QB since Johnny Unitas lead the Ravens to a repeat Lombardi Trophy?
Cigar Aficionado's 2013 NFL Preview
Who will soar—and who will flop—in the upcoming NFL season
The National Football League's 2013 season kicks off tonight at 8:30 EST on NBC when the defending Super Bowl champion Baltimore Ravens roll into Mile High to take on the Denver Broncos.
Once again, Cigar Aficionado has enlisted football expert Danny Sheridan to analyze the strengths and weaknesses of all 32 NFL teams and predict how each one will finish in their division and who will play in—and win—Super Bowl XLVIII at MetLife Stadium in New Jersey on February 2, 2014.
In his NFL preview, Sheridan, the sports analyst for U.S.A. Today, picks both Baltimore and Denver to win their divisions, the AFC North and AFC West, respectfully. Here's what he has to say about how both teams will fare in 2013:
Baltimore Ravens
Joe Flacco proved he was an elite quarterback by capturing Super Bowl XLVII MVP honors, which earned him a six-year, $120 million contract and a part playing a certain legendary Colts QB in the movie Unitas We Stand. GM Ozzie Newsome and Super Bowl champion Coach John Harbaugh (five straight playoff berths) reloaded on the fly when leader Ray Lewis retired, S Ed Reed bolted to Houston, ILB Dannell Ellerbe took his talents to South Beach and OLB Paul Kruger relocated to Cleveland. Newsome quickly signed OLB Elvis Dumervil and DTs Chris Canty and Marcus Spears and drafted Kansas State LB Arthur Brown and Florida S Matt Elam. RB Ray Rice is a lock for his fourth straight 1,000-yard season. WRs Torrey Smith and Tandon Doss need to emerge following the trade of Anquan Boldin to San Francisco, and Jacoby Jones will be Dancing With the Steelers, Bengals and Browns.
Denver Broncos
The $96 Million Manning (4,659 yards, 37 TDs) made Denver (13-3) Peyton's Place, and the already tony address has been upgraded in the off-season. Tom Brady's former Mr. Clutch, Wes Welker, is stepping in as Manning's new slot receiver alongside WR Demaryius Thomas (94 receptions, 1,434 yards, 10 TDs) and Eric Decker (85 grabs, 1,064 yards,
13 TDs). No. 2 draft Wisconsin RB Montee Ball, the NCAA all-time touchdown leader (83), could head a committee that will include Ronnie Hillman. LB Von Miller (18.5 sacks) keyed a defense yielding an AFC-low 289 points. Ex-Chargers OLB Shaun Phillips (9 1/2 sacks) should compensate for the loss of Elvis Dumervil (Baltimore). The back end was fortified once free agent CB Dominique Rodgers-Cromartie joined Champ Bailey.
Who does he pick to win it all, and why? How well does he think your favorite team will do this season? Read it in the October Cigar Aficionado, on newsstands everywhere now.
You must be logged in to post a comment.
Log In If You're Already Registered At Cigar Aficionado Online