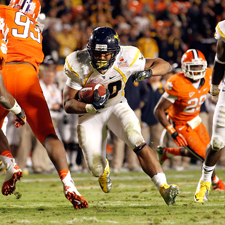 Photo/J. Meric/Getty Images
The Worst 10 Teams In College Football, 2013 Edition
(continued from page 2)
1. Kansas - It's not every day that a collegiate head coach refers to his own football team as a "pile of crap." Perhaps head coach Charlie Weis learned this motivational speech from the secret Notre Dame files of Knute Rockne, while he fielded a team that made Touchdown Jesus boo. After Weis spent a season as offensive coordinator in Florida, where he supervised the 102nd best offense in the country, he left to take over as head coach of a once-proud Kansas football team for the 2012 season.
Kansas, or as Oklahoma and Nebraska refer to it, "the flyover zone," returns only four starters on offense and four on defense from last year's 1-11 "effort." So we're assuming the excrement has been removed from the field and Weis can now show everyone what a brilliant football mind he has. Right? Weis brings in another quarterback reclamation project in Jake Heaps of BYU, after last year's Dayne Crist experiment ended in disaster. Weis has also imported a trove of junior college players hoping to make the leap to big time college football this year. Unfortunately, Dorothy, you are still in Kansas.
Dishonorable Mention (teams that will underachieve by winning four to seven games this year):

Houston, Indiana, Iowa, Iowa State, Memphis, Minnesota, Mississippi State, Pittsburgh, Rutgers, Temple, Utah, Wake Forest and West Virginia.
You must be logged in to post a comment.
Log In If You're Already Registered At Cigar Aficionado Online