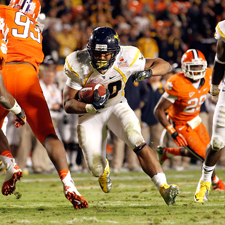 Photo/J. Meric/Getty Images
The Worst 10 Teams In College Football, 2013 Edition
(continued from page 1)
6. Boston College - For the last few decades, you could count on Boston College to field a solid football team that gave great effort. But like vinyl records and good Al Pacino films, all things must eventually come to an end. After absolving Frank Spaziani of his coaching duties, BC is hoping that Urban Meyer disciple Steve Addazio is the answer to their prayers.
They will need some divine intervention to help their defense that allowed a merciful 459 yards a game, including 4.7 yards per rush. Eight defensive linemen are back this year, but considering they only had six sacks combined last season, opposing quarterbacks are too safe to fail. Chase Rettig is a decent quarterback, but he's no savior. If Boston College football has a second coming, it won't be this year.
5. Kentucky - When you have a better chance of winning Powerball than winning a conference game, it's time to make a coaching change. Out goes Joker Phillips (that's not a joke, that's his real name) and his 13-24 record. In comes Florida State defensive coordinator, Mark Stoops. The Seminole faithful felt that Stoops never got the most out of his talent at Florida State. (Parents of Seminole alumni know this feeling all too well.)
Now Stoops comes to take over a significantly less talented Kentucky team and needs time to bring in his personnel. The defense brings back a strong line. But with both starting cornerbacks graduating, expect the Wildcat secondary to get tattooed more times than Miley Cyrus this season. Unlike Fort Knox, there's no gold hidden here. But in a few years, Stoops may have a chance to strike it rich here.
4. California - The good news is that the Golden Bears have fired 3-9 coach Jeff Tedford and brought in Louisiana Tech's Sonny Dykes, the offensive mastermind who often uses five-receiver sets. The bad news is that Dykes has to run his offense with a quarterback that's never thrown a football in college. Redshirt freshman Zach Kline shows some promise, but he's about two years away.
Dykes will also install a new 3-4 defense, but he inherits a secondary that couldn't cover their own eyes. Only starter Michael Lowe is back from last year, and he lost his job on a terrible team for poor performance. The future is sunny for California. Eventually, they will be scoring more than Maroon 5 in a sorority house. But, unfortunately, they won't jell fast enough to make it off the Worst 10 list.

3. Illinois - The Lone Ranger lost nearly $160 million at the box office this year. To put that in perspective, it was almost as big a flop as the 2012 Illinois football team. Coming off a winning 2011 season with a locker room full of seniors, expectations were high for last year's team. But the Fighting Illini didn't put up their dukes, losing 10 of its last 11 games, beating mighty Charleston Southern to prevent a sweep.
The team's quarterback Nathan Scheelhaase must be wearing a Mark Sanchez jersey under his uniform, as he has gone from a promising prospect to an under-performing enigma, with 1,361 passing yards, four touchdowns and eight interceptions. The Illini ground game fared no better, averaging 3.5 yards per game. With most of under-appreciated former coach Ron Zook's recruits on the way out, this team could even make Chief Illiniwek cry.
2. Colorado - Last year, the once-mighty Colorado football program tried to implement the 46 defense. Someone should have informed former coach Joe Embree, however, that 46 is a defensive alignment, not the number of points your defense should surrender each game. The Colorado defense was so bad last year that opposing teams only punted 16 against them the entire season!
Coach Mike McIntyre inherits a toxic team that might need federal funding to help clean up. Even legalized recreational marijuana hasn't helped recruiting. Quarterback Jordan Webb was terrible last year, but he's facing a suspension for criminal assault. Backup Nick Hirschmann had such terrible spring practices that he transferred before the summer. By default, Connor Wood looks like he'll be throwing often to catch up for a team that gave up six yards per carry on defense. Without crash test dummy Washington State on the schedule, wins may be extinct this year for the endangered Buffaloes.
You must be logged in to post a comment.
Log In If You're Already Registered At Cigar Aficionado Online