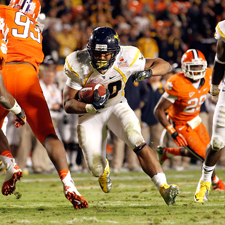 Photo/J. Meric/Getty Images
The Worst 10 Teams In College Football, 2013 Edition
With the first college football game of 2013 on the horizon, we once again turn to our gridiron guru, Danny Sheridan, to name the teams that are in for a disappointing season. Here is his expert take on the teams that will struggle mightily, plus his odds on who will win the Heisman and who to bet for the college football crown.
Playoff? These college football teams aren't talking about a playoff. They're talking about what date the basketball season starts. The closest these athletes will come to a Bowl is in their Remedial Pottery class. As the Bowl Championship Series schedule gets into full swing, expect a different one-finger salute from the fans and alumni of these Worst 10 Teams when you ask them, "Who's Number 1?"
10. Duke - For a minute last season we thought that Duke finally smartened up. Coach David Cutcliffe's 5-1 start had football watchers thinking that Duke might matriculate its way off the Worst 10 list. But the team flunked five of its final six games, ending with a 6-6 record. The 48 points they gave up to Cincinnati in the Belk Bowl was the worst bowl beating since Martha Stewart made her own scrambled eggs. During those final five losses, the Blue Devils gave up at least 42 points in each game.
With six starters gone on defense and another ACC slate of games on tap, the game plan may require scoring 50 points a game. With quarterback Sean Renfree and top receivers Conner Vernon and Desmond Scott moving on, even Saint Mike Krzyzewski of Durham couldn't save these lost souls.
9. Syracuse - Doug Marrone got every ounce of juice out of the Orangemen, taking them from laughing stock to national powerhouse. Evidently the Carrier Dome isn't cold enough for Marrone, who shuffled off to Buffalo to follow in the footsteps of illustrious Bills head coaches such as Wade Phillips, Gregg Williams, Mike Mularkey, Dick Jauron, Perry Fewell and Chan Gailey. Star quarterback Ryan Nassib has also gone on to bigger and better things: holding Eli Manning's clipboard in New Jersey. Defensive coordinator Scott Shafer takes over a team that drops a few talent levels as they head over to a significantly more difficult schedule in the ACC.
Hopefully, quarterback Drew Allen, who graduated from Oklahoma, can run the offense while he studies for "graduate school." The team can certainly run the ball, as running backs Jerome Smith and Prince Tyson-Gulley combined for more than 2,000 yards rushing last year. The question is whether they will be able to stop anyone at the line of scrimmage. Defensive tackle Jay Bromley is the lone starter returning on a defensive line that has seen two guys graduate and a third get kicked out of school for burglary. Knock, knock. Who's there? Orange? Orange who? Orange you glad you left, Doug Marrone?
8. Purdue
-
The Boilermakers are literally Hope-less. After getting a 58-14 trouncing from Oklahoma State in the Heart of Texas Bowl, the university pulled the plug on coach Danny Hope's 22-28 reign. Darrell Hazell, the brain behind a resurgent Kent State program, takes over. Hazell's first mission impossible is to tie a tourniquet around a defense that bled 31 points per game against a slate of teams that aren't used to having such healthy offenses.

The defense brings back eight starters, but unfortunately none of them are defensive tackle Kawann Short, who left for the NFL. Hazell also has to find a replacement for his top two quarterbacks, Robert Marve and Caleb TerBush. Hazell may be a good long-term solution for Purdue, but until then, the best Boilermaker on campus will be a pint of Budweiser with a shot of Jameson.
7. Virginia - Charity begins at home. And the Virginia offense gave up the football so many times in their own end of the field, they put Bill Gates's philanthropic efforts to shame. Even lowly Duke gave Virginia a 42-17 thrashing last season. And this year, the news gets even worse. Quarterback Michael Rocco transferred out of school when he heard the footsteps of Phillip Sims behind him. Not such a bright move, considering Sims subsequently failed out of school. Plan C, David Watford takes the reigns.
The defense is a bit better than last year's 4-8 record would indicate, but if the cavalier offense keeps giving up the ball with their butts against their own goal line, the defense won't be able to keep teams out of the end zone, even if it plays like the 1978 Pittsburgh Steelers. With games against top-10 teams like Clemson and Oregon on the schedule, they may want to check on Mel Blount's eligibility.
You must be logged in to post a comment.
Log In If You're Already Registered At Cigar Aficionado Online