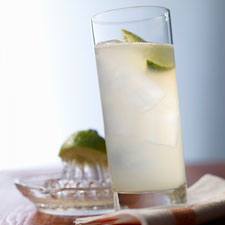 The Food Passionates/Corbis
Quench Your Summer Thirst with a Gin Fizz
(continued from page 1)
The drink was most likely conceived with Old Tom gin (a sweeter spirit more common in the nineteenth century), but today's ubiquitous London Dry and Plymouth gins work just fine. Holland gins are a little iffy—unless your thinking Nolet-as being clean and fresh aren't their forte.
Of course, we shouldn't forget the familiar Sloe Gin Fizz. Sloe gin is not technically gin (it has no juniper), but rather a liqueur made from infusing grain alcohol with sloe berries, a kind of wild plum. Nevertheless it makes a very good—if fruitier—Fizz, and is just as thirst quenching—which, after all, is the whole point.
Silver Gin Fizz
2 oz. gin
1 oz. fresh-squeezed lemon juice (or to taste)
1 tsp. simple syrup or 1 tsp. powdered or granulated sugar
1 egg white
Seltzer water
Shake gin, lemon juice, sugar and egg white with ice. Keep shaking. Strain into highball (or taller) glass (ice optional, it should be very cold at this point). Add a splash of soda. Garnish with lemon slice and/or cherry. Pour into mouth.
You must be logged in to post a comment.
Log In If You're Already Registered At Cigar Aficionado Online