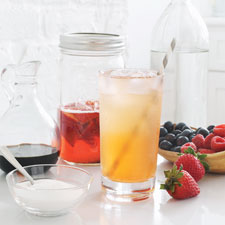 Photo/Alexandra Grablewski
It's Summertime and the Shrubbing is Easy
(continued from page 1)
Dorothy Stainbrook, who grows and preserves organic fruits on her farm north of Minneapolis and sells shrubs through heathglen.com, uses the hot-shrubbing process, because she makes so much that keeping mixtures refrigerated becomes a space management problem. However, she lets the shrubs cure in bottles at room temperature for a number of weeks, depending on the ingredients, sampling all along. Time, she says, allows the vinegar to mellow as it melds into the mixture.
Some method of drinking flavored vinegar has been with us for thousands of years, with the Chinese attaching medicinal and mystical significance to it. In the Middle East, vinegar was used as a fruit preservative, and our modern day term "shrub" derives from the Arabic for "to drink": šariba. (The terms "sherbet" and "syrup" share a common base.)
British sailors (read: Limeys) were always on the lookout for ways to carry preserved fruit, and drank them on their voyages. Originally, the idea was to preserve the fruit as syrup and then mix it with water as a form of soft drink. It was from 18th century America that more potent forms emanated as rum or brandy sometimes replaced vinegar in the process, prompting William Makepeace Thackeray to pronounce that "there never was any liquor so good as rum-shrub."
Spirits-based syrups have all but disappeared, but that's not to say that the nonalcoholic types aren't subsequently mixed with spirits.
A bartender in a past life, Stainbrook plays around with mixing possibilities, which she shares on her blog. This is another exercise in pairing ingredients she finds compatible, such as her Tart Cherry, Pink Peppercorn & Thyme Shrub with hearty Bourbon, Blueberry Tarragon in a vodka Martini and Orange Chipotle with beer. Bareilles feels gin is a shrubs best partner and rum is to be avoided as it clashes sweet with sweet.
A little goes a long way. For virgin drinks, Stainbrook counsels two to five tablespoons in an eight-ounce glass with seltzer. For more promiscuous cocktails she'll allow for a mixture one part shrub to four parts other liquid.
Gentlemen, start your cocktails.
You must be logged in to post a comment.
Log In If You're Already Registered At Cigar Aficionado Online