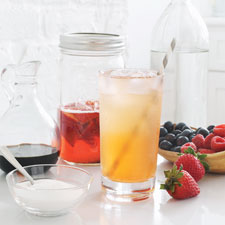 Photo/Alexandra Grablewski
It's Summertime and the Shrubbing is Easy
When the weather gets hot and the fruit is ripe, it's hard for some of us to see nature's sweet bounty and not think: How can I get this into a glass as part of my next cocktail?
Shrubs, which are simultaneously a mixological fad and a culinary tradition passed down from ancient China through colonial America, are the perfect solution. Sometimes known by the rather off-putting term "drinking vinegars," shrubs are a way to preserve any kind of fruit in a liquid concentrate. From there, use them to enliven a number of cocktails or—if you must—make soft drinks.
Essentially, shrubs extract the flavor from fruit with sugar and then preserve it with vinegar. Because of their alluring acidic quality, these sweet-yet-sour syrups bring depth and nuance to a cocktail in a way that simple juices cannot. They also offer an alternative to citrus lemons and limes, the ordinary method of putting a sour blast in a drink. And you can get creative by accenting shrubs with a slew of herbs.
Shrubs are available for purchase in gourmet stores and on the Internet. (Google "shrub syrup" or "drinking vinegar" to avoid being inundated with advertisements for small bushes.) But, more to the point, they're easy to make from fruits you may already be growing or can easily pick up fresh and ripe at a roadside stand.
The DIY project goes something like this:
Pick any kind of fruit (melons, berries, even cucumbers or rhubarb). Cut into chunks and macerate at a ratio of one cup fruit to one cup sugar. Leave overnight in a nonreactive container under refrigeration. The sugar will extract the flavor from the fruit. Add one cup apple or balsamic vinegar (white wine vinegar is too pungent). Leave overnight again. Strain and bottle. You can use it right away or wait. The taste will change as the mixture ages, but the vinegar will preserve it for weeks and months.
That's a cold shrub, preferred by many purists. You can also speed up the process with heat. Juice the fruit first. Then boil with herbs or spices (tarragon, basil and parsley are particular good). Add sugar. Let cool and then add vinegar. (Heating the vinegar makes it too astringent, and the mixture will smell like an Easter egg.)
As many variations to process exist as there are Internet bloggers to tell you their method.
Jeff Bareilles, wine and beverage director of Manresa Restaurant in Los Gatos, California, uses the cold method. What makes shrubs so "fun and fascinating," he says, is how versatile they are in bringing novel flavors to cocktails. "It's like a new toy for bartenders." he says. The shrubs he makes change depending on what fruits are in season.
He says that one of his great joys is to "pacify the ever-annoying request for a Cosmopolitan" by altering that insipid concoction with a cranberry shrub. "It changes the textural composition and lengthens the finish, so you have a beginning, a middle and end."
You must be logged in to post a comment.
Log In If You're Already Registered At Cigar Aficionado Online