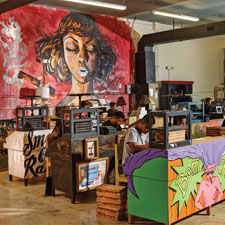 Moving to Miami
The historic home of the U.S. cigar industry is a new hot spot for creative cigarmakers
(continued from page 3)
His first project out of Miami was a brand called Baracuda By George Rico, a cigar that contains Nicaraguan internal tobaccos and a Habano-seed wrapper grown in Ecuador. Baracuda has become the flagship brand of his Miami concern, but he also makes brands such as Opium, Zulu Zulu and the George Rico Miami Series. In his first year, Rico's four rollers only made about 100,000 cigars, but he is very satisfied with the quality and has introduced an interesting concept directed at tourists who walk in the door curious about cigars.
"I started something called the 'Gar Deli concept," he says. "I give a little seminar on blends and then a customer can smoke the different component tobaccos. After that, I explain how to blend a cigar and then let the customer make his own blend. It's like making a sandwich, so that's where I came up with the name 'Gar Deli." Any prospective walk-in blender has 12 different types of filler tobacco to choose from, as well as six different wrapper types that include Ecuadoran Habano, Nicaraguan Habano and Pennsylvanian broadleaf. After the blend is established, the commitment is for a box of 25 at $250 per box. The entire process takes about four hours.
Rico tries to keep the cost of his cigars in a reasonable realm. "Even though it costs so much more to make a cigar in Miami than it does in Honduras," he says, "Baracuda only retails in the $7.50 to $9.00 range."
In Rico's same Calle Ocho zip code is another small factory called El Titan de Bronze. It's a charming little boutique decorated with old photos and cigar memorabilia. While this factory isn't new to Miami like the others, it has only recently become relevant within the realm of premium cigars since picking up a number of national brands such as La Palina and Padilla.
Eighteen years ago, El Titan started making its own namesake brands for walk-in tourists interested in smoking a local cigar. The factory was and still is owned by Cuban-born Sandy Cobas, who started as a wine and liquor retailer before getting into the cigar business. She's since left the spirits industry and devoted herself entirely to the factory. "I never leave," she says as she walks into the small cigar aging room. Here, in this closet-size walk-in, a number of finished cigars sit on shelves in bundles of 25 and 50. "I can't. We're small and we want to stay in business so you have to be the best. Miami is expensive but it's worth it. I'm a niche operation for people interested in classic Cuban-style cigars."
Rolling tables take up most of the space in the factory, and Cobas walks up and down, checking cigars and looking at their construction. She says that the operation was not profitable when it first started, but the real turning point for the factory came about two years ago when a Cuban roller named Maria Sierra started working for her. Classified as a Category 9 roller, Sierra had made cigars at the prestigious El Laguito Factory in the Miramar section of Havana for 32 years, giving her somewhat of an elite status among rollers.
"Usually the rollers from Cuba that come around are from Upmann or the Partagás Factory if you're lucky," says Cobas. "But El Laguito?" Cobas walks over to Sierra's rolling table and picks up a cigar, holding it up, showing off its excellent construction and pigtail cap—undeniable proof of remarkable training. Sierra does not look up from her work.
In Cuba, Sierra primarily made Cohibas, including Behikes, and her skills have been put to good use in Miami. Last year, she made a limited-edition cigar for Bill Paley's La Palina brand called the Goldie Laguito No. 2, which was rolled with the same parameters as the Cuban Laguito No. 2—a 6 inch by 38 ring panetela. It was the only La Palina made in Miami until this year's Goldie Laguito No. 5, an expertly finessed pigtail cigar the same size as the Cohiba Behike BHK 54 (5 3/4 by 54).
Sierra is the only one who rolls these smokes for La Palina. Only 25,000 are scheduled for production. While she concentrates on that, the nine other rollers are busy producing the Padilla cigars, including the Padilla Miami 8 & 11 (a cigar that was once made in Miami, relocated to Honduras, and brought back to Miami), Chinnock Cellars cigars (a brand owned by Brian Chinnock of Chinnock Cellars winery) and some of the El Primer Mundo brands, including the Epifania and Liga Miami.
Cobas mourns the loss of some of the factories that have left the neighborhood. El Credito Cigars, which rolled La Gloria Cubanas just across the street, now only sells cigars. And El Rey de los Habanos is now in Doral. "I wish that some of the people who left Calle Ocho were still here. It brought more foot traffic, but I love it here," says Cobas. "The rollers are artists and I don't ever get tired of watching them work. They're the best at what they do. Miami still has that mystique."
You must be logged in to post a comment.
Log In If You're Already Registered At Cigar Aficionado Online