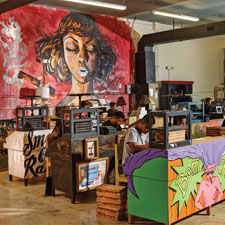 Moving to Miami
The historic home of the U.S. cigar industry is a new hot spot for creative cigarmakers
(continued from page 2)
"It all started here with me," says Johnson as he sits at a table in the middle of the My Father Cigars facility. It's early evening and the warehouse space has been temporarily converted into a nightclub for the 10th anniversary celebration of both the Tatuaje and Don Pepin Garcia brands. White drapery, colored lights and a full bar turn the ambiance from industrial to festive and in a few hours, the music will be blaring at decibels that could stop a pacemaker.
Though Johnson no longer plays in a band, the 42-year-old still has the look of pure Rock-n-Roll. His hair, however, is neatly tied back and his tattoos and heavy silver jewelry are covered by a sports jacket. "We wouldn't be in the position we're at right now if it weren't for what we did in Miami. We don't need to be here. We don't make any more money off of the cigars here than we do from the cigars made in Nicaragua, but something made in the U.S.A. is always special."
After demand outgrew the capacity at the tiny El Rey de los Habanos factory, the Garcia family expanded to Nicaragua, keeping only Tatuaje "brown label" and Don Pepin Garcia Blue Label in Miami. Eventually, the Garcias moved from downtown Miami to an industrial park in Doral.
The My Father Cigars factory in Nicaragua ships its finished product to the My Father Cigars headquarters in Florida. Inside the building, behind the loading area and the offices and the inventory warehouse, is a room with less than a dozen rolling tables where small amounts of Tatuaje and Don Pepin Garcia are made. (One of the rollers, Rene Dominguez, has been making cigars with Pepin since before the Cuban Revolution, dating back to the days when he worked at his family factory in Baez, Cuba.) That room carries an old familiar name.
"The little factory we have is still called El Rey de los Habanos," says Janny Garcia, referring to the Garcia's original factory name. Janny, Pepin's daughter and head of operations for the Florida location, is upstairs preparing for the party. "My Dad loves the name," she says. Depending on the need, the rollers concentrate on crafting either Tatuaje or Don Pepin Garcia Blue. "There's really no need for us to have rollers in Miami," says Janny. "Our production is very good in Nicaragua and I don't think that the rollers there are any worse or better than the rollers here, but my dad is attached to Miami."
To underscore his Miami roots, and to celebrate 10 years in the business, Johnson has repackaged and rebanded all his Miami-made cigars. The new, redesigned bands read "Tattoo Tatuaje 10 Miami," as does a new marking on the box. The Tatuaje "brown label" is arguably the quintessential cult cigar, and this is because of its small production and limited distribution.
According to Janny, the small factory produces about 350,000 cigars per year. It's off the beaten path in Doral, and there is no tourist foot traffic, but if one has the inclination to take the trip, the facility has a small cigar shop and a fully furnished indoor branded lounge.
When asked why he's kept a Miami presence, Pepin himself answers: "Miami is the city that received me and so many other Cubans when we left our country. It's a place where Cubans can make a living and exist like human beings."
This is not to say that cigar rolling on Miami's iconic Calle Ocho (Eighth Street) has been abandoned. A little over a year ago, George Rico of El Rico Habano Cigars had the idea of opening up a small rolling gallery in Miami. Most of his cigars are made in Honduras at the S.T.K. factory, but Rico had aspirations of more creative control and saw an opportunity to make this possible in Miami. The sign over his 8th Street factory reads G.R. Tabacaleras Unidas Corp.
"My focus is on quality," says Rico. "In Miami I can create a unique product in small batches without having to go all the way to Honduras to do it. All my rollers are Cuban, and most of my cigars out of Miami are made with a pigtail cap, similar to the Cuban Cohiba Behike."
You must be logged in to post a comment.
Log In If You're Already Registered At Cigar Aficionado Online