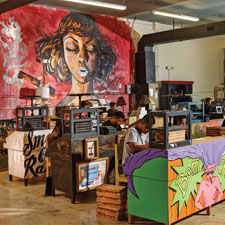 Moving to Miami
The historic home of the U.S. cigar industry is a new hot spot for creative cigarmakers
(continued from page 1)
"A legal visa is a huge incentive for these guys to work," says Eiroa, "but I don't want them to overproduce. And here in Miami, we can take our time." Eiroa says the response from the local community has been strong. "Every month the neighborhood has something called the Wynwood Art Walk, where the surrounding businesses and galleries open their doors. People come in, buy a cigar, look at the art and have an experience they normally wouldn't. We welcome this."
Less people friendly, though no less serious, is the new Tropical Tobacco factory, which opened up in Doral, Florida, in 2011. Situated in an industrial park near the Miami airport, 10 rollers work individually to produce the Casa Fernandez Miami brand. Casa Fernandez was first rolled at the Raices Cubanas factory in Honduras, but brand owner Eduardo Fernández slowly relocated the operation to Miami. He didn't choose Miami to cater to visitors.
"This isn't a shop in Little Havana," says Fernández. "It isn't really for tourists. When we bought Pedro Martín's Tropical Tobacco in 2002, this was his facility. It was used for distribution, but after awhile it seemed that I could have a lot more control over the quality of the Casa Fernandez brand in a smaller setting more easily controlled than in Honduras. Being here guarantees better consistency."
It's a bare-bones operation with little to distract the workers. At the front of the facility is a warehouse where the docking-bay doors are rolled up to let in natural light, which can often be a luxury in this type of industrial setting, and tobacco leaves are hand-stripped and sorted by one man. Further back, in a cooled environment, Fernández keeps bales and bales of cigar tobacco, the bulk of which is supplied by his agricultural conglomerate Aganorsa (Agricola Ganadera Norteña S.A.), a giant grower in Nicaragua. Aganorsa supplies a huge portion of the premium cigar industry with raw leaf and affords Fernández's operation true vertical integration. The Corojo '99 wrapper that he uses is proprietary to the Casa Fernandez Miami brand and that brand only. "I'm not telling you which farm it's from," Fernández says with a laugh. "Then everyone will want it."
Fernández is seated at a table right in the middle of the warehouse floor. With his gunmetal-grey beard and generally austere countenance, one doesn't expect him to speak so softly, let alone chuckle. But he lights up a Casa Fernandez and closes his eyes for a moment, then exhales and nods approvingly. He's quite fond of the wrapper, calling it "a magical leaf with a unique sweetness." Fernández is biased, of course, but the cigar has impressed. The Casa Fernandez Miami Toro was the number 12 cigar in Cigar Aficionado's Top 25 Cigars of 2011, scoring 92 points.
Fernández has staffed Tropical Tobacco with experienced cigar rollers who previously worked in Cuba. Unlike in most of Central America or the Dominican Republic, where one worker bunches the tobacco and a separate roller applies the cover leaf, the employees at Tropical Tobacco work individually in a more Cuban style of production.
"Each roller is responsible for the entire cigar. The personality and skill is evident in each stick," says Fernández.
The staff rolls about 1,500 cigars per day, 80 percent of which are Casa Fernandez Miamis. Casa Fernandez Reserva, Aganorsa Leaf and Aganorsa Leaf Maduro are also made here in Doral. Fernández says finding good cigar rollers in Miami isn't a problem, but it also isn't cheap. By his estimation, the labor cost is at least 40 percent higher in Miami than in Honduras. "The extra cost is worth it," Fernández says with confidence. "We're looking to expand."
A five-minute car ride from Tropical Tobacco down North West 25th Street in Doral takes you straight to the My Father Cigars warehouse and rolling gallery. More of a boutique operation than a true factory, the building is owned by the Garcia family, producers of such brands as Tatuaje, My Father, La Aroma de Cuba, Don Pepin Garcia and Flor de las Antillas, Cigar Aficionado's 2012 Cigar of the Year. Most of the Garcia's cigars are made in Nicaragua, but their business was born in the Calle Ocho section of Miami under the name El Rey de los Habanos.
José "Pepin" Garcia took on Pete Johnson's Tatuaje brand as his first client in 2003, and it was in Miami where the original Tatuaje Selección de Cazador or "brown label" was born. Its small-batch, Miami-made identity was always was one of the brand's defining characteristics, and still is to this day.
You must be logged in to post a comment.
Log In If You're Already Registered At Cigar Aficionado Online