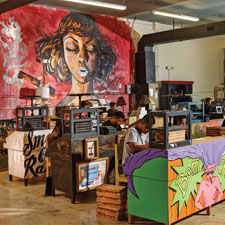 Moving to Miami
The historic home of the U.S. cigar industry is a new hot spot for creative cigarmakers
The neighborhood is covered in spray paint. Not the kind that blighted the South Bronx in the 1970s, but a more artistic form of graffiti with deliberate use of color and shape. With the exception of an attractive young girl being professionally photographed on the sidewalk and a sleepy Rhodesian Ridgeback, there's no one in the streets. Things probably don't come to life around here until midnight.
This isn't Little Havana. This isn't Tampa's Ybor City. It's the Wynwood section of Miami, a gentrified arts district that doesn't exactly have a reputation for cigars. And it's one of the unlikely neighborhoods throughout the city serving as a new home for cigar companies looking to set up shop in Miami.
After Tampa, Miami was a haven for disenfranchised Cuban cigarmakers to start over again, and the city became a must-see destination for any cigar lover. But the high cost of labor sent most of the industry to Central America and the Dominican Republic, where labor and materials are considerably cheaper. Recently, however, some cigar companies with well-established offshore infrastructure have decided to open up small rolling galleries in Miami.
Companies such as CLE Cigars, Tropical Tobacco and S.T.K. now have Miami outposts where they produce, pack and ship cigars for national consumption. And rather than leave the city where it started, My Father Cigars has only expanded its Florida footprint. Given the higher cost of labor and tobacco importation, these moves might seem counterintuitive, but different companies are coming to Miami for different reasons.
"Cigars just don't travel well," says Christian Eiroa of CLE Cigars. He opened the Wynwood Cigar Factory in Miami with partner Robert Caldwell last year. It sits in a gravel lot behind a chain-link fence and is covered in murals and graffiti. "I wanted to preserve the right flavor and feeling as if the cigar was being smoked right at the factory after you leave. There are so many times when you smoke a cigar at a factory and then after it ships and reaches its retail destination, it tastes completely different. Too much travel stresses the tobacco. That's where my Factory Fresh program comes in."
According to Eiroa, having the cigars made in Miami means minimal travel time and therefore a lot less trauma to the final product, so by the time it reaches the smoker, very little has changed.
"The climate changes, the changes in pressure, the differences in humidity—I've eliminated all that," he says. "Everything is sent via ground delivery. It's something different and I got the idea from microbreweries. Small beer manufacturers found a way to present the product differently."
Click Image to Enlarge
The Wynwood Factory Fresh concept has brought an artsy, Bohemian theme to the Miami cigar industry. All the furniture in the factory is handmade or reclaimed, the walls have art that changes from month to month, and there's a section towards the back that functions as a creative studio. Many of the cigar boxes that leave the factory-cum-gallery are customized with modern, avant-garde art, sometimes cigar themed, sometimes not.
Right now, Wynwood produces three main cigar lines: Rout, Coneja and Grenada, all of which are made with mostly Honduran tobacco. With six rollers working in pairs and one packer behind them, Wynwood is tiny, producing about 1,000 cigars per day. The Wynwood lines are made as an artsy alternative to Eiroa's core CLE brand, which is produced in Honduras. The rollers behind the tables at Wynwood gained experience at the Camacho factory in Honduras—which was once owned by Eiroa and his father—and Eiroa paid for their visas and their lodging to have them participate in his new experiment.
You must be logged in to post a comment.
Log In If You're Already Registered At Cigar Aficionado Online