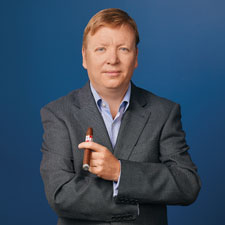 Javier Estades with one of his company's newest creations, the Romeo by Romeo y Julieta Piramide, Cigar Aficionado's No. 3 cigar of 2012.
A Conversation With Javier Estades
General Manager/Premium Cigars U.S.A., Altadis U.S.A.
(continued from page 6)
Secondly, we need to keep bringing innovation and credibility. We have to try to experience new things. We have great brands. We need to keep listening to our consumers and to our retail customers. That's critical and we need to try to anticipate any potential trends or opportunities and at the key is being able to develop understanding of cigars. If we put a cigar in the market, we need to make sure that it responds to something, that it has a concept, that we're appealing to a specific consumer, and have got a plan to support that. And by having that consistency, I think we can make that happen. And this is basically what we are working toward in the future.
Q: What are your concerns going forward?
A: It's no surprise that the biggest concern we all have is the possible regulation of the premium cigars. We are working with the industry to show why the premium market is so special and so unique. At the end we are a very small part of the market.
But consumers are very knowledgeable and experienced. Buying a cigar requires an investment in terms of money. The premium cigar industry does not represent any threat. We are working with organizations and the industry to try and show the difference of the premium cigar market. So that's the biggest threat that we have at this moment in the industry.
Q: Have things gone better than you expected for you here?
A: I don't know what is going to happen in the future. I think nobody knows. For me, it's very clear is that this project in the end is very interesting if we show growth. And this is what we are all committed to, to maximize the opportunities we have in the market. I'm very happy because I have one of the best teams in the industry. So I'm very confident that these guys can achieve whatever they want if we keep working and keep engaging our consumers and our customers. So now we are in a very good position. We keep bringing relevant things for this market to remain competitive. But I think this is a tough market and it requires… it's very demanding. It's been challenging, but if I look backwards and I see everything the team has done, I feel very proud about their output.
Comments
1 comment(s)
Marne Jurgemeyer — Fort Morgan, CO, USA, — August 22, 2013 10:15pm ET
---
You must be logged in to post a comment.
Log In If You're Already Registered At Cigar Aficionado Online