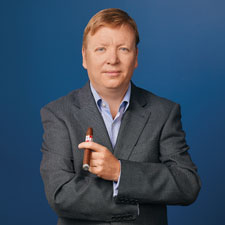 Javier Estades with one of his company's newest creations, the Romeo by Romeo y Julieta Piramide, Cigar Aficionado's No. 3 cigar of 2012.
A Conversation With Javier Estades
General Manager/Premium Cigars U.S.A., Altadis U.S.A.
(continued from page 5)
All these experts are under a common roof. It's not only two people deciding, like it used to be. We are bringing all that knowledge in the company because that knowledge is unbelievable. They have been there for decades. What we are trying to do is talk with the real experts in blending, in the leaf department, with the packaging guys. That's how we are coming out with these more powerful concepts.
For instance, every week in the factory there is a tasting panel, a blind test where you try new things. But also we compare with what we have in the U.S. market, so that's an important element. We are also developing a Grupo de Maestros (a master's group), which is a group of people who are more senior and who play a more experienced role in our cigars. They are focusing in those projects that are at the higher end. For instance, the Grupo de Maestros is actually part of the Montecristo Epic program. Every box is signed by the Grupos de Maestros, the special group of rollers that create the cigar. They sign every box and sign off on it.
This is something new, not just bringing the best rollers together, but recognizing them as the best rollers. We are getting them to buy into that and getting their commitment and their excitement and their engagement.
Q: These are people who actually work on the factory floor?
A: Absolutely. We are also working to share experience between both the factories, in Honduras and the Dominican Republic. We are also strengthening the links we have with the Turrents in Mexico and with our manufacturing partnerships, we are trying to maximize the flow of information and get the best practices in place. Those are big changes.
These guys all need to know what is our strategy, and what are our future products, because that will determine the tobacco that they will buy, or the things they have to do. By sharing that information and to really work as a team, we are anticipating things that are helping us to come up with better cigars in the U.S. market. So I think that for me this is one of the key assets that we have as a company, to use all that knowledge and to make sure that everybody works in the same direction.
Q: Are the leaf people spending more time in the farms and telling people what they want and how to grow?
A: Leaf people are critical, because they need to understand what it is we want to do in the U.S. market and the purchases they make. One of the positive initiatives that we have in Altadis is that, because we are big, we can have access to the best tobaccos in the market. If we see that one year that specific crop of tobacco was good, we can decide to buy more, so we can properly age that tobacco. So working with the leaf personnel is critical. And this is why they need to know in advance what projects we are working on.
Making a premium cigar is something that's very artisanal and that needs time. So you cannot produce something that's really good overnight. You need time and you need some planning. So that's something that we're working closer on with these guys. And these guys, they are really experts. And we are getting them involved in the idea generation process, their input is very valuable because they can tell us what's going on outside the factories.
Q: That's a new process for you, right?
A: That's the point. The more people that have the information, the more ideas are being generated. We now talk to the leaf people all the time. They can now anticipate and say, "Hey, that could be something down the road that's interesting." And, because we're closer on our side to adult consumers, we need also to provide those technical experts with that information, so they know what's happening in the U.S. market. And that for me is the key, the ability to have that communication.
Q: Would you call that a strategic shift?
A: For me, it is about the team. The most important asset that we have in Altadis is the people. And I'm very clear about that. So I think that my job is basically to let those people do their job. We need to have a clarity about the direction of the business, and to transmit what we want to do. But our ability to use all that knowledge, and to transform that knowledge into specific and concrete things for the consumer is what is going to bring success.
Q: What is your vision for Altadis U.S.A.?
A: Everything is about keeping the business growing. In order to do that, it's challenging but I think that we are ready. Basically what we need to make sure is that we keep developing those brands with the highest potential, that we make choices about where we want to invest.
Comments
1 comment(s)
Marne Jurgemeyer — Fort Morgan, CO, USA, — August 22, 2013 10:15pm ET
---
You must be logged in to post a comment.
Log In If You're Already Registered At Cigar Aficionado Online