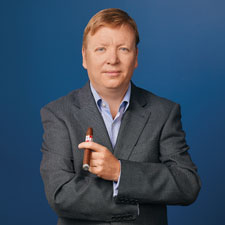 Javier Estades with one of his company's newest creations, the Romeo by Romeo y Julieta Piramide, Cigar Aficionado's No. 3 cigar of 2012.
A Conversation With Javier Estades
General Manager/Premium Cigars U.S.A., Altadis U.S.A.
(continued from page 4)
I have also encouraged small production, or limited-edition short runs, like the Sumum in the VegaFina line. That was very popular on the market. We did one with the Montecristo Epic, that iconic No. 2 size. Because we have these secret stashes of tobacco we can do some short runs that are exciting and really creative. The consumer will tell us if it is going to be for the long run or what things will not work. But we are doing different things, to be more creative more innovative, to adapt to the latest trends. In the market that we're in, we know that the U.S. consumer is very loyal. But we also know that the American consumer wants to try things. And they're very demanding. So we want to try to honor that, to try to do some things that are relevant and see if they are successful.
Q: How do Montecristo lounges fit into that strategy? How many do you have at this point? Is that a program you think you'll grow in the future?
A: Point of sale is pretty critical, because we want to make sure that we help our retail customer maximize opportunities. How do you do that? It's very important to reinforce the premium experience, so every time that a consumer goes to buy a cigar, it's not just a cigar. It's everything around that. Just by walking in one of these beautiful humidors, and seeing all the cigars, and getting all the advice and the recommendation of the brick-and-mortar people is very important to maximize that experience.
We definitely want to and will have more programs in order to reinforce these premium experiences. The Montecristo lounge program is very important for us, so we are also working to see how we can expand and give value to that program.
Q: How many lounges are there at this point?
A: Twenty. Some are bigger than others. But it is one of the things we've been working on developing. We have better tools, better information that we can share with the retail customers. We try to also give them better materials, to have a more professional approach, and basically at the end the key is to work as a partnership with those people. This market is about relationships. So while we are also trying to honor that trust from these guys, there are some things that require time. But we want to be a reliable manufacturer, and we're here to work with them and to have a win-win approach.
Q: But how do you balance the demands of your retail tobacconists with the catalog business? Isn't that a source of some suspicion with the brick-and-mortar outlets. How do you counter that?
A: We try to come up with initiatives for each channel. I think that both channels have different dynamics and have different consumers. So what we wanted to make sure is that if we put something in brick and mortar, it's for the brick and mortar.
Q: What percentage of your sales are in brick-and-mortar tobacconists versus catalog?
A: Regarding the weight of the sales, we don't disclose that information. But I can tell you that both are relevant in the U.S. market, not only to us, but to the whole industry. But we are working with the brick-and-mortar side. For instance the new Romeo was exclusive to brick-and-mortar tobacconists. Other programs are open to everybody, including catalogs. We are trying to make sure both channels have the right tools to be competitive. In our case, we have a balanced business. But fortunately we have a good portfolio so that we can offer interesting initiatives for both customers. They are both important for us.
Q: What about new brands? Will you be considering that? Is that something that down the road you see as an option?
A: We have a very complete portfolio, so it's not a priority to deliver new brands. However, we have a lot of opportunities to do things with existing brands that we have. And you will see more in the future. I cannot tell you about our plans at this moment.
What we want is to develop and to put all our efforts in those brands that we think have the highest potential. And I think that we already made that choice in terms of the brands. But again I think that this is one of the assets that we have, which is having such a portfolio. I think that we have more brands that we increase their value in the market.
Q: On the production side, what's going on at Tabacalera de Garcia? Is it still the largest premium hand-rolled cigar factory in the world? What kind of changes have you implemented there?
A: I don't know about in the world but it's certainly in the Dominican Republic or Honduras. We do have more than 2,800 people working in both factories, and we are producing up to 50 million cigars a year.
But I'm glad you brought up the factory. Let's go back to the process that we follow now to launch new cigars. The main change is that we are working closer with the real experts. Under this new approach, our marketing department talks with the real expert in each of the different steps that we have to follow.
Comments
1 comment(s)
Marne Jurgemeyer — Fort Morgan, CO, USA, — August 22, 2013 10:15pm ET
---
You must be logged in to post a comment.
Log In If You're Already Registered At Cigar Aficionado Online