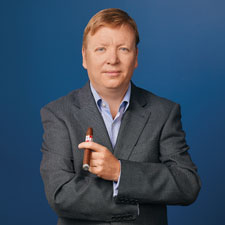 Javier Estades with one of his company's newest creations, the Romeo by Romeo y Julieta Piramide, Cigar Aficionado's No. 3 cigar of 2012.
A Conversation With Javier Estades
General Manager/Premium Cigars U.S.A., Altadis U.S.A.
(continued from page 3)
Q: On your website, there is a long list of brands that you produce. What are the plans for the other brands in your portfolio?
A: We have some other brands that we are trying to revitalize: Gispert, Saint Luis Rey, Te-Amo. In the case of Te-Amo we launched Revolution, which is very innovative. Gispert and Saint Luis Rey are great brands. We are upgrading the packaging on Saint Luis Rey. It's more modern, more up to date. It's a great cigar at a very competitive price.
But in the end, we are reviewing our strategies. What we want to have is the right brand for each of the price segments in the U.S. market. And I think that we have such a good portfolio that we can offer a different product to each consumer. And be competitive in that segment. We are trying to position those other brands to accomplish that goal.
Q: Is it the same process for all these brands? You look at the blend, decide to change the blend or not, then you look at the packaging, update or modernize it? Are you doing that for all these cigars?
A: The process and the steps are the same. But what's important is if we put a cigar in the U.S. market, it needs to have a story. We need to have a reason for why we are doing that.
With some initiatives, the cycle is shorter. Sometimes we don't change the blends because we are happy with what we've got. In those cases, the only thing we are focusing on is in modernizing the packaging. But again, everything needs to be done thinking about the adult consumer, making sure that we help our retail customer with products they can sell, and we can help them to maximize their return. And there is a rationale for that.
Q: Are you going to change the blend in all of the brands?
A: No, absolutely not. We have fantastic cigars, and we want to keep the base that has been so successful in the business. Look at Saint Luis Rey. It's the same great Saint Luis Rey we've always had. People love it. But we have updated the packaging. Here let me show you. This is brand new, a line extension for Saint Luis Rey. We call it Generation 2. So, we are trying out new things to do to help the brand.
This is a fuller-bodied Saint Luis Rey. The traditional Saint Luis Rey was medium-bodied, so this newer Saint Luis Rey is fuller bodied, a completely different blend, but with the same brand identity to play off those same sweet spots. This is the kind of initiatives we are doing with these other brands too. If you want to be successful, you have to leverage the brands that we have in our portfolio and make sense of it.
Q: Altadis brought some brands to market in the last five years or so. Are you going to continue supporting those, or will you be dropping any brands in the portfolio?
A: Some brands will rationalized because we need to make choices. We cannot invest in and sustain all our portfolio. Some brands are being studied right now and some products will be rationalized.
Q: Does rationalized mean dropped?
A: Yes. Dropped. But not only brands. We are constantly evaluating our portfolio because if we put new things in the market we also need to take out some of them. This is a constant process. That will even be true with some front marks within a line. It may be a certain size that we don't have or there's a certain size that isn't relevant anymore. It's an ongoing process.
Q: I'm looking at the humidor here. I don't see any Warlock. I don't see any Mi Dominicana. I don't see any Por Larrañaga. I mean that's a great Cuban brand name. Are those things that you haven't addressed yet?
A: Some of those brands, like Warlock, we will continue to put in the market. Some others are being evaluated. The future depends on sales. If sales continue, we will decide if we want to continue with them. Or maybe we could revitalize the brand.
And it has only been two years, you know. Give us time.
Q: We haven't talked about Trinidad yet, which I think is a great brand name for the country.
A: Trinidad is interesting because it's one of those brands that we think has some potential. With Trinidad we wanted to be more creative and to think outside the box. We came up with something that I would say is quite radical for us. The cigar is very distinctive, especially the taste profile. We use some Criollo, Corojo, some various different tobaccos from Nicaragua, and it's a little fuller bodied. As you can see it's box-pressed. This has had a nice following so far. We tried to take a step forward with Trinidad. The consumers will tell us if we are right or not.
Comments
1 comment(s)
Marne Jurgemeyer — Fort Morgan, CO, USA, — August 22, 2013 10:15pm ET
---
You must be logged in to post a comment.
Log In If You're Already Registered At Cigar Aficionado Online