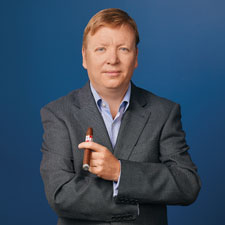 Javier Estades with one of his company's newest creations, the Romeo by Romeo y Julieta Piramide, Cigar Aficionado's No. 3 cigar of 2012.
A Conversation With Javier Estades
General Manager/Premium Cigars U.S.A., Altadis U.S.A.
(continued from page 2)
Q: You are moving toward a fuller-bodied profile for Montecristo as well, aren't you?
A: Yes. If you want to be credible, you have to come up with something that is relevant for the consumers. You need to make also cigars that are in line with the trends. So we are trying to develop really good cigars for those brands.
Q: We have noted that you have adopted a more modern look to Montecristo packaging as well, without losing any of the tradition.
A: It is a combination of elements. By doing the packaging if you don't have good cigars at a reasonable price, you know it's not going to work. The consistency and the combination of all of the elements is what allows you to be successful in this market.
Q: Let's talk about H. Upmann. You've just come out with Legacy. Is that another element in the modernization of your brands?
A: H. Upmann is another great brand that we have. We are trying to innovate with the H. Upmann Legacy, which is our newest initiative. That cigar has been produced in our factory in Honduras. The price point is very competitive. It's basically in what we call the sweet spot. It's between $6 and $8.
We are very excited about this new launch because we really think that it's a very good cigar at an incredibly competitive price. So as you can see we are touching on initiatives in those brands that we think have got the highest potential in terms of growth. Now our job is to find the right initiatives so that the consumers think that they are relevant for the market.
Q: You said that one of the first things you did was prioritize with your three big brands: Romeo, Montecristo, H. Upmann. Are those the three you wanted to focus on initially?
A: We do have some other brands that are important, like for instance VegaFina. It's an international brand that is non-Cuban. We restaged that brand two years ago. And we are very happy with that brand because in that time we have almost doubled the sales here in the United States.
Q: Doesn't it sell well in Spain too? 
A: As a matter of fact, it is among the top three best sellers in Spain. It's also got a presence in France, Germany and some other countries. It is a fantastic brand for those who are new in the premium market. It's a mild cigar at an affordable price. We have some new plans for VegaFina too, such as the Sumum, which is a limited edition of VegaFina. Or even VegaFina Fortaleza 2, which is the latest thing. It is a cigar that is a little bit fuller bodied versus the standard brand. But we are happy about the performance here in the U.S.
Q: What percentage of VegaFina is sold outside the United States?
A: We don't release total sales volume, but I can tell you that about 80 percent of VegaFina production is sold outside the United States.
Q: This may be difficult to discuss given that your parent company is involved in Cuban cigar production. How much do they get involved in this kind of project? They do own the brands worldwide, so how those key brands are presented here has some impact globally.
A: Even though we are part of Imperial Tobacco [Group PLC] and part of the premium division, we run very separate operations. We have no contact and this business is run totally independent with a focus on the U.S. market. That's how we operate. I don't have any contact or involvement with them.
Q: But they are global brands. Do you have to be sensitive to that reality as you move forward?
A: If you see what we are doing in the U.S., the approach that we are following is quite specific for that country. What we are doing in the end is getting a sense of understanding about the brands in the United States. Basically, we are developing cigars that are very specific for this market.
Let me give you an example. We have, for instance, the regional editions in Montecristo. This is something that we have developed for some consumers in some specific areas in the U.S. Those are cigars that we feel are best for those people, and are pretty much U.S. concepts. We have the New York regional edition, we have Texas, we have Las Vegas, and we have Chicago,  which is the latest one. They are all unique blends, not the same cigar in a different box. And, the packaging is built on concepts that are unique for the states. By the way, you can only buy them in those states or areas.
Comments
1 comment(s)
Marne Jurgemeyer — Fort Morgan, CO, USA, — August 22, 2013 10:15pm ET
---
You must be logged in to post a comment.
Log In If You're Already Registered At Cigar Aficionado Online