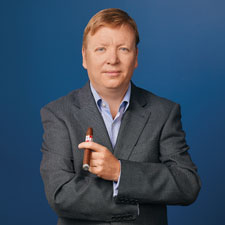 Javier Estades with one of his company's newest creations, the Romeo by Romeo y Julieta Piramide, Cigar Aficionado's No. 3 cigar of 2012.
A Conversation With Javier Estades
General Manager/Premium Cigars U.S.A., Altadis U.S.A.
(continued from page 1)
The second thing we did, and that is very clear in my mind, is that we needed to bring outstanding cigars into the market.  So we had to come up with a new process, of identifying those new opportunities and identifying those new cigars. Now, all our experts get together regularly. We now work directly with the blenders, with the leaf purchasers, with the packaging guys, with the real experts at each level to leverage all that new information in the company.
Q: Do you really bring them together in the same room?
A: Absolutely. Absolutely. It's new in the way we approach it. I mean the knowledge was in the company, but we have improved our ability to use that knowledge, and to transform that knowledge into concepts and into cigars. That has been a real step forward. And we've had some good successes, like with Romeo, where we are applying that process.
Q: Walk us through that Romeo process. The creation of Romeo by Romeo y Julieta [Cigar Aficionado's No. 3 cigar of 2012] is one of the most obvious changes in a brand from top to bottom, from the packaging to the cigar itself.
A: First of all, Romeo is a very important brand, in fact the most important brand that we have in our portfolio.
Q: Is it the largest selling brand?
A: It is the largest selling brand in our portfolio. One of the things that was clear was that we needed to focus on those brands with high recognition. Romeo y Julieta is one of the brands in the United States with the highest recognition or awareness that we have. What we wanted and what we identified in Romeo, was that we wanted something new. We needed something more modern, more in line with the latest trends in the market. Our portfolio was missing a fuller bodied, more complex flavored cigar within the brand. We said let's work on a concept to see what cigars we can develop that fit that opportunity.
The team worked together. They come up with outstanding cigars. It's very nice. It was complex, it was very different from the cigars that we had in the Romeo y Julieta brand, but also the packaging was very distinctive. It was more creative. We took some risks. But I think that it paid off and that we came up with something that people really appreciated and are enjoying.
Estades, who took over Altadis U.S.A. Inc.'s premium cigar division in 2011, emphasizes a team-first approach in creating new handmade cigars.
Q: Do you have the final say in each of those steps?
A: Once we have determined what it is we want, the team comes up with different alternatives, and then it's up to the team to try the different products and to approve those that are better. That team includes the leaf guys, the blenders in the factory, the marketing department and the packaging people.

The beauty about this project is the consistency, in the sense that everything works in the same direction. But in order for that to happen and to be successful you have to have guidance about what it is you want to get. But for sure it was a very lengthy process. But we follow the right kind of steps until we have what is a winning proposition.
Q: The changes actually seem to have happened relatively quickly. Am I wrong? 
A: The team was extremely engaged even though it was complex. But we made all the decisions in a very organized but effective manner.
Q: How long did it take?
A: It was about a year. The team worked together. Of course I signed off on everything, but there was a team consensus. We needed something different. And this is what we were trying to do—bring new things to the market that are relevant for the adult consumers and for our customers. We have the brands, so what we need is to bring value to those brands through initiatives that bring innovation and new concepts, and then leverage this fantastic portfolio that we have.
Q: What about Montecristo? When you took over, the brand had numerous line extensions—Montecristo Platinum, White—have you abandoned those?
A: Montecristo is a brand that we are trying to elevate. It's a brand that if you see the history and the heritage, it needs to play in the higher end of the market. But in order to do that, we need to come up with some initiatives that allow the brand to be credible in that market segment. This is why we have focused on the Epic. And in the future you will see more quality premium initiatives.
Comments
1 comment(s)
Marne Jurgemeyer — Fort Morgan, CO, USA, — August 22, 2013 10:15pm ET
---
You must be logged in to post a comment.
Log In If You're Already Registered At Cigar Aficionado Online