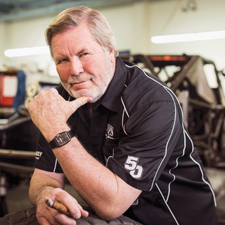 John Langley created one of the original action reality television series, "Cops," and has kept the show on-air for 25 years.
Arresting Television
After nearly 25 years on-air, John Langley is still keeping reality TV real
(continued from page 1)
Langley really hates, among others, what he calls the "white-trash bashing" shows like "Here Comes Honey Boo-Boo" and "Ducks Dynasty." "The dating shows are signaling the end of civilization as we know it. There are a lot of reality shows masquerading as reality when they're scripted. And there are a lot of reality shows masquerading as reality when they're managed. Some are just fake."
Langley's larger television legacy is one that can be seen in other ways. TV news reporters who used to stand still and tell you what was happening, now "walk and talk" while the camera follows them, handheld, not a tripod in sight. The video vérité reality "Cops" made mainstream is also now seen regularly on dramatic cop shows and even comedies like "The Office."
All that and Langley believes that he could not get "Cops" on the air today. "Everything is quick cuts today," Langley explains, describing the short scenes edited in most video formats on the air. "The only editing I do in 'Cops' is to compress time," meaning, for example, that you might see a cut to a police officer's feet while he's chasing the suspect so that the length of the chase can be shortened to save time.
Where Langley does not save time is in how "Cops" is shot. Camera crews each spend eight weeks with law enforcement departments, waiting for just the right events. Every year, a seminar is held to teach crews how to shoot the show. This is not the kind of investment most "reality shows" choose to afford. Langley simply says that "Cops" is not "preordained."  "You're not ahead of the action, when things are preordained. You walk with the action, with the cop," Langley explains. "I jokingly call it existential TV. You're in the moment and you discover reality. Reality is not preordained."
In other words, John Langley is keeping it real.
Alejandro Benes lives and smokes mostly in Southern California.
You must be logged in to post a comment.
Log In If You're Already Registered At Cigar Aficionado Online