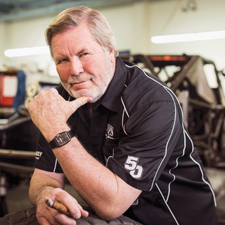 John Langley created one of the original action reality television series, "Cops," and has kept the show on-air for 25 years.
Arresting Television
After nearly 25 years on-air, John Langley is still keeping reality TV real
"I'm not gonna go for another jerk-off meeting with you," John Langley recalls telling the Fox programming executive. "You wouldn't know a good show if it slapped you in the face. I'm tired of your crap. Just leave me alone."
Langley, an affable raconteur, had repeatedly met with Fox and other TV networks, selling his show "Cops," which he ultimately did and has accomplished a feat few can claim: his show has been on for 25 years in a row. On the same network. [The show is moving to Spike TV next season.] But getting there, Langley says, was "agonizing." "They [the TV execs] were all very negative," is how Langley tells it. "I thought it was a very simple idea that was easily graspable, but you'd be shocked at how many objections people posed to the notion."
When Langley refused to go to "one more meeting" with Fox, the programming executive promised to get Langley in front of Barry Diller, Fox TV's top boss at the time. " 'You've gotta have a narrator,' Diller said. And I said no, " Langley remembers. " 'Whaddayamean no?'  Diller said. And I said that defies the whole purpose of doing it the way I'm talking about doing it. 'All right then,' Diller said. 'You gotta do some reenactments.' And I said no. He said, 'Whaddayamean no?' And I kept doing this with him on each point because my feeling was I'm not gonna sell out my idea anymore. To hell with 'em all."
"Stick to your guns," advises John Langley. That's what you need to do if you want to get things done the way you want them done. That and a good idea.
"This would really be great to follow police officers, in their footsteps as a ride-along," Langley tells the Archive of American Television about the pitch for "Cops." "A genuine ride-along with no interference between you and the subject. In other words, no narration, no narrator, no host, no script, no reenactment, none of that. Just keep it as pure as possible so you can experience the process."
Diller greenlighted a pilot. Langley admits the pilot was "too powerful." He had left in a graphic blood-and-guts scene from a brutal murder; stuff that today is commonly seen in shows like "CSI," but was new in 1989. Langley knew it would be taken out. Diller and other executives began debating whether they could even air such material. In the middle of it all, Langley remembers the door to Diller's office opening.
"And this guy came in the room and sat in the corner. He looked like an accountant." Diller kept arguing. "And then the guy in the corner says, 'Order four of them. Try four.' And I look over and Diller says, 'Ah, just hush, I'm talking right now.' And I thought, 'Well, who's that guy, the accountant?' Well, obviously, it turned out that he wasn't the accountant. It was Rupert Murdoch, but [back then] nobody knew who Rupert Murdoch was or what he looked like."
John Langley was already a television producer. He had done shows with the legendary columnist Jack Anderson and with Geraldo Rivera. One with Anderson that aired in 1989 explored, even predicted, the likelihood of a terrorist attack on the United States.
On December 2, 1986, as a precursor to "Cops," Langley was also the first to televise a drug bust live—actually three of them—on "American Vice: The Doping of a Nation," with Rivera. Langley had persuaded the Broward County (Florida) sheriff to let cameras tag along as deputies followed up on a tip. "I convinced them to conduct this drug bust, which they were doing anyway, but to do it on that night," Langley recounts. "And they agreed."
That moment of TV history was made more surreal by the fact that the suspects in the raided house were watching themselves on TV.  "That was the most post modern experience I've ever had. They literally were watching the show as the door banged and we followed the police in as they bust 'em. It was a really weird thing and somebody had to run over and turn off the TV so it wouldn't confuse everything."
You must be logged in to post a comment.
Log In If You're Already Registered At Cigar Aficionado Online