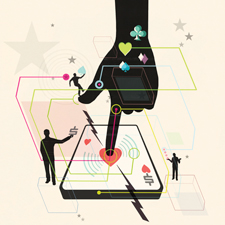 Illustation/Mark Allen Miller
Virtual Poker Goes Viral
Gambling on social media could pay off big in the future
I remember being shocked over a conversation I had with an executive from Caesars Entertainment. Usually, during chats with these guys, I'm jaw-dropped after hearing about some audacious investment, the gaming habits of high rollers or the diabolically devious techniques of freshly caught cheaters. But this was something else altogether. The executive told me about Caesars' success with social gaming—that is, people playing casino games online, via freestanding sites, apps, and through Facebook—but without the potential to actually win money. He all but bragged about the online games being just like the ones you encounter on the floors of Caesars Palace or Harrah's or the Rio. There were slot machines and video-poker offerings that perfectly mimicked the authentic articles. I heard what he said and needed to have it repeated. People are playing slot machines without the possibility to win money? My only response to this was a three-letter word: Why?
Then the conversation became even more puzzling. It turned out that not only were people playing casino games for fun. But some actually paid for the privilege. Now I was totally confused. People paid money to buy chips that had no value so that they could gamble higher, play cooler games and boast to their friends about how many chips they had accumulated (even if they paid, say, $19.95 for 250,000 in chips). I always thought that the whole point of gambling was to put real money at risk with the hope of turning a real profit. Otherwise, where was the thrill? What was the point? You might as well play Monopoly or Scrabble.
Admittedly, maybe I can see online poker, played for funny money, finding an American audience now that the opportunity to play for real money—with payments being processed illegally via operations like PokerStars and Full Tilt—no longer exists. But the above conversation took place while online poker was still thriving. It turns out, then and now, that some people enjoy playing poker for fun. They like shoving in their chips with 5, 8 offsuit and waiting to see what will happen. Certainly, in the wake of so-called Black Friday, on April 15, 2011, when the real-money poker sites were shut down by the Department of Justice, playing poker for fake money, or social gaming as it's better known, provides a safe fix for jonesing gamblers.
Sites like Zynga and Double Down Casino—free, fun, completely legal, accessible via Facebook and loaded with millions of players—became a sort of drug for those who enjoyed the rush of bonafide online gambling. "They're popular with American consumers because American consumers do not have the real-money option," says Charles Cohen, CEO of Probability, a UK-based company that comes up with mobile solutions for online gaming and gambling. "Those companies [the Zyngas and Double Downs of the world] have delivered amazing products."
And now, with for-money online poker, along with other versions of gambling, making steps toward legitimacy (various forms of legalization for intrastate play have come to pass in Nevada, New Jersey and Delaware) the social-gaming sites may soon have the opportunity to take real-money wagers from American players.
Considering that these companies have the technology and the finances, and they clearly hold captive audiences of people who enjoy playing poker, it seems like it would take little more than the flick of a switch for them to convert to real-money hold'em. Instantly, I imagine, they'd become steroidal, legal versions of Tilt and Stars. "But the interesting thing," says Cohen, "is that it's not the same thing when real money is involved. The businesses are different. Running a social casino is very different from running a regulated gambling business." For starters, with real-money games you can't deal off the bottom of the deck and make sure that everybody gets decent pairs in order to keep the games interesting. More critically, if a player's account gets hacked he loses more than just a stack of funny money.
Exactly how different the two businesses are and whether or not the social companies can convert their just-for-fun clients into serious cash players has yet to be seen. Mention the likelihood of this to anyone in the online gaming business, ask them how likely it is for the social gaming sites to successfully transform into real-money gambling sites (which can be more profitable), and the response tends to be some version of  "that's the $64,000 question." In other words, nobody knows. Two operators in England are trying to make the leap and their spokespeople are not particularly game to discuss current progress. In the U.S., Zynga, the king of social gaming, recruited Mayta Ginzburg, a former senior vice president of European online gambling behemoth 888, to lead it into the world of real-money action. But even there, spokespeople are keeping a tight lid on things. Maybe for good reason.
"I'm not sure that they will be adept at getting gamblers," says Cohen, referring to the social gaming sites in general. "What they are very good at is getting people to play games. But if you look at a company like Zynga, for every 100 people they bring in to play its games, only one or two actually spend money on playing [that is, pay to buy the extra chips]. So there is a very small number of people from whom they generate revenue. That is very different from running a real-money gambling business where you have a smaller number of customers but a financial relationship with almost all of them."
Beyond the challenge of attracting players, putting up a successful real-money poker site requires skills that seem more related to banking than to gaming. When cash is involved, security needs to be airtight, customer service must be spot-on, the games have to be impossible to hack and vigorous marketing becomes a necessity. Plus executives have to go through screening processes in order to get licensed. Social gaming providers "need to acquire new skill sets," says Cohen. "The barriers of entry for social gaming are nonexistent. For real money, they are extremely high. It's a 100-foot wall. It really is."
Midway through reporting this story, I speak with the interactive folks at Station Casinos. This puts me in touch with Tom Breitling. He's most famous for having partnered with Tim Poster to purchase the Golden Nugget for $215 million in 2003, making a reality show about it and selling the place for $340 million in 2005. Now he's the chairman of Station's online effort. He cagily tells me that the casino company is poised to be the first American operator to launch a completely legal form of online poker. Antonio Esfandiari, famed for having snagged the first-place prize of $18.3 million at last year's Big One for One Drop poker tournament, is the site's face. Software promises to be first-rate and precedents seem poised to be set. I ask Breitling how soon he expects to be open for business. Brietling tells me soon. He doesn't tell me that it will be a day after we speak.
Comments
1 comment(s)
Fern Walraven — February 25, 2014 9:40am ET
---
You must be logged in to post a comment.
Log In If You're Already Registered At Cigar Aficionado Online