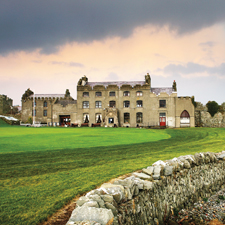 The Ardglass Golf Club is more of an inland course, but it is a popular secondary choice.
The Links of Northern Ireland
(continued from page 3)
"Royal Portrush and Royal County Down, they would be by far what most people would come and play," says Clarke. "I am a little bit biased that Royal Portrush is better. If you play links successfully you need to hit the ball quail high. At Royal County Down you have seven tee shots that you must hit high, blind over a post. I don't mind blind, but having to hit it up high, blind over a post, up in the air, it is not what I think links golf is about. Here, Harry Colt has got it where you can nearly see everything in front of you, and you can hit it this high [he puts his hand beside his chair seat] off the ground if you want.Royal County Down is a sensational second-shot golf course. Where as here it is the whole package."
Increasingly the Ardglass Golf Club just up the coast from Newcastle and Royal County Down is becoming a second play for the area. It's not really a links, more a headland course. There is a great deal of charm about it, including the centuries-old commercial building that is now the clubhouse. The 11th and 12th holes, relatively new, play exhilaratingly along a bay.
Royal County Down benefits from having a good business-class accommodation, the Slieve Donard Hotel, virtually on its doorstep. The clubhouse is really no more than a short par 4 from the hotel's back door. The Slieve Donard, situated directly on the beach, has two restaurants and a spa, which might come in handy for sore muscles after a tussle with Royal County Down.
The capital of Belfast has two airports, the international and the city, and access to all of Northern Ireland's courses is relatively quick. Less than two miles from George Best Belfast City Airport is the town of Holywood and the Holywood Golf Club. This is where Rory McIlroy learned to play. The club won't mind if you stop in and see the shrine to McIlroy in the upstairs foyer where replicas of his U.S. Open and PGA Championship trophies stand, surrounded by his life in pictures, Ryder Cup golf bag and assorted other artifacts of his still-young career.
This could be your last stop before departing Northern Ireland for home. But after experiencing all that this little country the size of Indiana has to offer in the way of links golf, you could save it for your next trip. You'll be coming back. v
Jeff Williams is a contributing editor of Cigar Aficionado.
You must be logged in to post a comment.
Log In If You're Already Registered At Cigar Aficionado Online