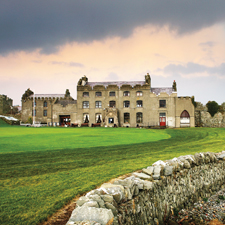 The Ardglass Golf Club is more of an inland course, but it is a popular secondary choice.
The Links of Northern Ireland
(continued from page 2)
There is much excitement in the area now that a new golf course development has been given full planning permission after a 13-year mission to get it approved. David McLay Kidd, designer of the original course at Bandon Dunes in Oregon, has laid out Bushmills Dunes on land near the Giant's Causeway. It is a project and a passion of Dr. Ali Hanna, a Northern Irishman who lives in the New York area and who was a partner in the international management consulting firm, McKinsey & Co.
In 1988 Hanna took a group of very high-profile American clients on a golf trip to Northern Ireland. He found two things he thought lacking about the experience: There was no five-star hotel accommodation such as he thought his clients were used to (they didn't complain) and the lack of weekend tee times at the private clubs.
"I thought that Northern Ireland desperately needed a resort," says Hanna. "Groups from the U.S. would come over, Goldman Sachs would bring groups, and they would immediately move into a hotel in Dublin and helicopter up, land on the practice area at Portrush, play Portrush, jump back on the helicopter and head back to Dublin. Northern Ireland would not get any benefit of them spending money on hotels, and other things. That told me we needed a resort."
He's certain that if he builds it they will come. "It's a personal passion, and I'm also convinced it will be a very successful economic venture," says Hanna. "If you look at Bandon Dunes, Mike Keiser built [in southern coastal Oregon], that was nothing. Nobody went there. Then he put in place a phenomenal golf course, a 'build it and they will come' sort of thing. The key to success is to have a golf course that is very playable and scenic, and provide tremendous service to those who come to play."
Darren Clarke is thrilled that such an upscale property is now on the books for the Portrush area. "It's a great bit of land," he says. "A new five-star hotel, lodges and all that sort of stuff and that's going to be fantastic for this area. Any Americans who come over will be able to base themselves in a five-star hotel."
The best of accommodations in the area is the Bushmills Inn, right in the town of Bushmills and just a quick jump away from the famous distillery. The inn is intimate and comfortable, the restaurant quite good and worth the bed and breakfast option. Portrush has some decent restaurants and down on the harbor is the Ramore group of restaurants, a lively gathering spot for locals and golfers with good food at good prices.
Golfers from all over twin out Royal Portrush with Royal County Down, which was the first links in Northern Ireland to garner significant attention. The original course was laid out by Old Tom Morris, but the course as it stands now is largely the work of Colt with additional work over the last 15 years by Donald Steele. Royal County Down is well-known for hosting major amateur competitions—the British Amateur, the Walker Cup, the Curtis Cup.
But it is better known for being one tough piece of links land. With blind tee shots over high dune ridges, sand bunkers that swallow not only balls but players and deceptively quirky greens, Royal County Down is a handful, and one gladly taken on by thousands of American pilgrims each year.
"We get 6,500 to 7,500 from the U.S. a year," says RCD's Wilson. "Without wishing to blow one's trumpet, they are quite happy with what they find here, that the course and the hospitality exceed their expectations. The majority are serious golfers, tend to be members of private clubs, know what they want. They would expect the highest level of service and we are very mindful of that."
That includes a deep and talented pool of caddies and perhaps no links course demands so much local knowledge as does Royal County Down. From the seven blind tee shots (and most are quite high shots over ridges) to avoiding or extricating oneself from the penal bunkers, to figuring out the sometimes imperceptible breaks on the greens, RCD's caddies are a must.
And your caddie can take your group picture on the dune ridge in the ninth fairway, a photograph that is among the most famous in all of golf, with the spire of the Slieve Donard Hotel thrusting upward into the massive backdrop of the Slieve Donard mountain. The tee shot and the snapshot are priceless.
With an admitted bias to Royal Portrush, Darren Clarke compares the two courses.
You must be logged in to post a comment.
Log In If You're Already Registered At Cigar Aficionado Online