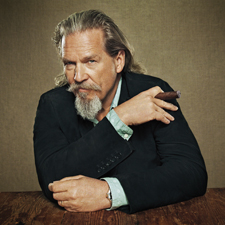 Photo/Jim Wright for Atelier
Living the Dream
Jeff Bridges' Oscar win for Crazy Heart in 2010 led to the fulfillment of a teenage fantasy to be a Rock star
"I'm living my teenage dream," Jeff Bridges says gleefully, hoisting a Gibson acoustic guitar over his head in a one-armed victory salute as a Las Vegas crowd cheers.
Bridges and his band, the Abiders, have just closed out an alternately bright, bluesy and energetic 90-minute set with a blistering version of The Byrds' 1967 hit "So You Wanna Be a Rock 'n' Roll Star." The show has included everything from the country twang of Bridges' Otis "Bad" Blake character in Crazy Heart to a Bob Dylan song ("The Man in Me") associated with The Big Lebowski, to Credence Clearwater Revival's "Lookin' Out My Back Door."
As the crowd stands and applauds, Bridges utters a thank you and smiles. Living the dream, indeed. Earlier this day, Bridges stood on the triangular stage, which was wedged into a corner of the Chrome Room at Santa Fe Station Casino, part of the sprawl on the northwest outskirts of Las Vegas. Sipping a hot tea after taking time for his vocal exercises, his silvery hair pulled back in a bun, jeans, brown T-shirt, glasses on his nose, he looked like a dad (or, in Bridges' case, granddad) wandering the aisles at Home Depot.
It was the sound check before the show and Bridges was squeezing for all the time he could get to balance the sound in an unfamiliar venue. He and his band quickly got down to work, starting most of the songs from that night's show and playing them long enough to make sure the sound levels were balanced in the monitors for Bridges and guitarist-bandleader Chris Pelonis. They took the opportunity to rehearse their phrasing and timing on a refrain of "She Lay Her Whip Down," one of several songs written by Bridges' childhood friend John Goodwin.
That night, his hair a shoulder-length silver mane, Bridges obviously enjoys himself as a singer and bandleader. The show is the first of two by Bridges and the Abiders in Vegas this particular weekend, toward the end of a month-long spring tour that has taken the band from Seattle to Portland to Tucson and Phoenix before hitting Vegas. After almost a dozen shows in just three weeks, the talented band has an obvious polish, along with the enthusiasm of musicians who enjoy playing together. And they're led by a guy who looks like he can't quite believe he's having this much fun, fronting a band, headlining a pair of sold-out rooms in Las Vegas.
The crowd at the Chrome Room is primed; Bridges doesn't disappoint, playing a friendly set that includes a dozen and a half songs, most of them either from the film Crazy Heart (in which Bridges played country singer "Bad" Blake) or one of Bridges' two albums. A plurality of the songs was written by Bridges' pals Goodwin and the late Stephen Bruton. He even sings a witty tune, "Van Gogh in Hollywood," from the little-seen Terry Gilliam film, Tideland: "Anybody see that?" Bridges asks the crowd, his smile turning skeptical when someone applauds. "Really? I played a carcass for most of that movie."
Afterward, Bridges unwinds in the backstage dressing room with a glass of wine. He has always played music, he notes, joining in weekly jam sessions for years after high school with his high-school friends: "One rule—no songs allowed. But singing was encouraged. They were these fucking wild jams."
He wavered early on in his acting career between acting and music. Movie success had come quickly—an Oscar nomination for The Last Picture Show, his first major film role at 21. But Bridges confided to his father, actor Lloyd Bridges, that he was thinking of putting acting aside to pursue playing music for a living instead. His father's advice: Stay an actor—and make movies where you play musicians.
Which he has—in the Oscar-nominated The Fabulous Baker Boys and again in Crazy Heart, for which Bridges won his own long-deserved Oscar, as an aging singer whose self-destructive spiral is approaching a crisis point. Bridges has recorded two albums and has a studio in his Santa Barbara home.
In fact, Bridges found the Abiders through Pelonis, who Bridges initially hired to design his home recording studio. When he met Pelonis, they began talking about music—and then playing music together.
You must be logged in to post a comment.
Log In If You're Already Registered At Cigar Aficionado Online