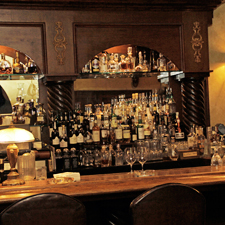 As many as 50 different brands, ranging from Arturo Fuente and Davidoff to Montecristo and Liga Privada, are sold at Javier's.
The Cigar Room at Javier's, Dallas
(continued from page 1)
The bar's most popular libations, Villa adds, are "whatever the customer likes," from Port wines and single-malt Scotch whiskies to Grand Marnier brandy and Louis XIII Cognac.
Javier's Cigar Room, in a nutshell, exudes outsized Texas fun, class and hospitality. Should you be lulled into over-indulging while enjoying your favorite smoke, the place even has a limo driver on staff who will get you home safely.
Glenn Hunter edits a magazine focused on CEOs in Dallas and writes frequently about business, culture and travel.
The Cigar Room at Javier's
4912 Cole Avenue
Dallas, Texas 75205
214-521-4211
javiers.net
Sunday to Wednesday: 5 p.m. to midnight
Thursday to Saturday: 5 p.m. to 1 a.m.
You must be logged in to post a comment.
Log In If You're Already Registered At Cigar Aficionado Online