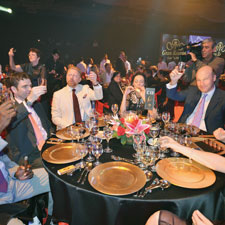 Gonzalo Fernández de Navarrete of Habanos; tennis star Boris Becker and his wife, Sharlely; Tim Cole, British Ambassador to Cuba.
New Montecristos Lead the Way at Habanos Festival
Cuba's annual cigar party draws hundreds to Havana, raising nearly $1.3 million for charity
If the annual Habanos Festival is a launching pad for Cuba's newest cigars, the star rockets of the most recent event were a pair of new Montecristos. The über large Montecristo Double Edmundo and the short and sharp Montecristo Petit No. 2 were the most talked about cigars in a week of heavy smoking.
The festival drew a crowd of 1,500 from 70 countries to Havana. It began on February 26 and concluded on March 2 with a gala dinner and concert that featured an age-defying performance by Omara Portuondo, a Cuban singer and dancer who has been entertaining crowds for more than 50 years. The 83-year-old was the headlining act for the final evening, performing with Maestro Patterson's orchestra and Maestro Santiago Alfonso's dance troupe. Portuondo seemed to gather increasing energy throughout the night, singing on stage and moving through the crowd of 1,200 with a vibrant smile.
Tennis star Boris Becker, who toured Cuba's El Laguito factory earlier in the week (and later said he would be a Cohiba Behike smoker from that point on), took the stage to help present one of the Habanos Man of the Year awards. American actor Danny Glover was honored by Habanos with a special award for his efforts speaking on behalf of the Cuban Five, a group of Cuban nationals imprisoned by the U.S. government.
"I made a commitment to make sure those men receive justice and come home to their beloved Cuba. I am accepting this award on behalf of those five courageous men," said Glover. He went on to speak about the gathered crowd. "They all come here to celebrate the cigar that you make, and they also come here to celebrate you."
The dinner was dedicated to Partagás cigars, and the large room was emblazoned with the distinctive red and black of the iconic brand, which was created in 1845. Beautiful waitresses bearing trays of Partagás cigars—beginning with Serie D No. 5s, concluding with a new Lusitania Gran Reserva—appeared between each course of food, ensuring a cigar was in hand for the entire event.The Gran Reserva was the final new cigar introduced at themed dinners spaced throughout the week. This is an annual tradition at the festival, which attracts Cuban cigar retailers, distributors, members of the press and simply those who love Havana cigars. The smokes are previewed to the crowd, and typically go on sale much later in the year, usually around the fall.
The Montecristos were launched at an outdoor party held at Morro Castle, a 400-year-old stone fortress guarding the entrance to Havana bay. The massive cannons at Morro Castle haven't been fired in anger in decades, but they made a dramatic setting for the launch of the cigars. The Petit No. 2 is the first addition to the core Montecristo line (known as the Línea Clásica) in many years and is a shorter version of the cigar world's favorite torpedo, the Montecristo No. 2. Measuring a tidy 4 3/4 inches by 52 ring gauge, these short cigars will come in boxes of 25, boxes of 10 and in three-packs. A test smoke of the cigar proved exceptionally pleasant, with coffee bean notes, a bit of sweetness and lots of leather in the nose.
As Montecristo went shorter with the Petit No. 2, it went longer with the Double Edmundo. The Edmundo line from Montecristo has been extremely well received by cigar lovers—Habanos reported that Montecristo Edmundos and Petit Edmundos, combined with the Montecristo Open brand, account for 40 percent of all Montecristo cigar sales. Building on consumer demand for all things Edmundo, the Double Edmundo, measuring 6 1/8 inches by 50 ring gauge, was added to the portfolio. The vitola is known as a doble in Cuban cigar factories.
Both new Montes, which feature redesigned cigar bands with a  golden fleur-de-lis, were largely praised by those in attendance. There was less fanfare for the relaunch of Vegueros. Vegueros cigars were made for several years outside of Havana, in the tobacco town of Pinar del Río. The Cubans discontinued the brand, but brought it back with a milder blend, shorter sizes, lower prices and vibrant packaging.
The cigars we smoked didn't have tremendous character or depth, but were most impressive in the largest vitola, the Entretiempos (4 3/8 inches by 52). The other sizes are Tapados (4 3/4 inches by 46) and Mañanitas (a short torpedo measuring 4 3/8 inches by 46). Habanos plans to make Vegueros among the least expensive cigars in its portfolio.
The big cigar of the Festival was the Partagás Lusitania Gran Reserva Cosecha 2007, showcased at the gala dinner. Blended by Arnaldo Bichot, the cigar combines ligero from Cuba's famed San Juan region and seco from San Luis. It will be limited to 5,000 numbered boxes of 15 cigars. While most were generally pleased with the smoke, Cuban cigar veterans found that it just didn't remind them of a Lusitania, which is typically among Cuba's more powerful and flavor-forward big cigars. It could be quite some time before you see the Partagás Gran Reserva on sale—last year's big release, the Romeo y Julieta Reserva, was just making its way to shops as this issue went to press.
You must be logged in to post a comment.
Log In If You're Already Registered At Cigar Aficionado Online