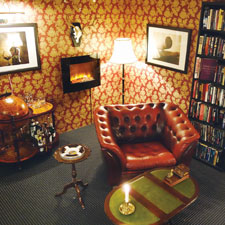 Photo/Peter Frank Edwards
Most man caves feature television sets, but not the one owned by Rune Jensen of Esbjerg, Denmark. His cigar-friendly basement sanctuary features old jazz records and hardcover books.
Man Caves
Cigar aficionados are turning basements, attics and far grander spaces into cigar lounges all their own
Richard Greco was building his dream home in Savannah, Georgia, when a smoking ban shut his local cigar bar. Greco loves cigars, and didn't want to smoke outside, so he reworked his original plan and added something special to the design: a man cave.
Greco now puffs his cigars in a room that's better than most cigar bars, a 2,600-square-foot area that includes two humidified cigar cabinets, a home theater (complete with a popcorn machine), pool table, golf simulator, office and a 15-foot-long bar. The entire space is cigar-friendly, attended to by a pair of smoke eaters that clear the air and keep the aroma of burning cigars out of the main house.
"I thought, well, I'm building a new house," says Greco. "I might as well build a man cave."
He is hardly alone. Cigar lovers are always looking for a great place to enjoy a cigar, and as smoking bans eliminate smoking havens, more and more often, that place is in their homes, often in a room dubbed the man cave.
At its heart a man cave is a room where one can get away, either in isolation or with a group of friends. They invariably feature comfortable seating (think couches) and nearly always have some form of television. Bars are common, to ensure a proper adult libation can be on hand. Poker tables and pool tables are quite at home in man caves, and for the cigar lover humidified storage is a must. Air cleaners and ventilation are always a good idea.
Man caves are rooms where decorations that would be quite out of favor in the main living space are ideal. That poster-sized, signed photo of your favorite NFL linebacker, glowering at a downed opponent? The mounted lunker bass you caught on a fly rod on your last fishing trip? Photos of you and your buddies on a golf vacation? Signed baseballs, old cigar boxes, and the poster from The Good, The Bad and The Ugly? All make ideal decorations for your man cave.
The term man cave has been around for 20 years, but it was only recently that it became a common term. Today there are websites and books dedicated to the subject, endless products emblazoned with the phrase and even a cable television show hosted by former NFL defensive terror Tony Siragusa dedicated to the subject. Last year the phrase was immortalized when it was added to the Merriam-Webster dictionary. Webster's cites 1992 as the first reference of the phrase, and defines a man cave as "a room or space (as in a basement) designed according to the taste of the man of the house to be used as his personal area for hobbies and leisure activities."
Some prefer a more genteel label. "Everybody calls it a man cave—I call it a gentleman's room," says Vincent Sciarretta, the owner of VAS Construction Inc. in Darien, Connecticut. Sciarretta's 300-square-foot smoking sanctuary, which is decorated in cherry millwork and solid fieldstone cut from his backyard, was born of opportunity: he and his wife had decided to expand their Wilton, Connecticut, home by building out to make a grand dining room for entertaining family and friends. When Sciarretta's wife Denise suggested that it would make sense to add a large walk-in closet above the new dining room, he saw his opening.
"In my mind, I had an idea for a basement," he says. "I got all my guys, my whole staff down here." Sciarretta's team labored in secrecy until a delivery truck pulled up with two massive refrigerated wine cases and headed for the basement, giving his wife a hint of his grand plans.
The Sciarretta man cave is built around wine and cigars, two of Sciarretta's passions. A custom-carved wooden door leads from the basement proper into the room, which features storage for 400 bottles of wine, most of them Italian reds. There's a hammered copper sink, a large-screen television with full theater sound, and a humidified cabinet that can hold some eight boxes of cigars, each displayed on an angle in a style fit for a cigar shop. On a recent visit, it was filled with cigars by Montecristo, Padrón and Rocky Patel. A leather sofa and two leather chairs face the television, and behind the sofa sits an antique backgammon table. A gas-powered fireplace that doesn't require venting adds charm, giving it a look that is somewhat reminiscent of a Vail ski lodge.
You must be logged in to post a comment.
Log In If You're Already Registered At Cigar Aficionado Online