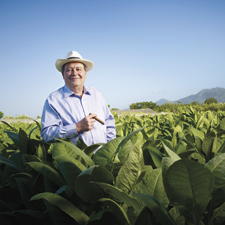 Hendrik "Henke" Kelner feels quite at home in the fields of the Dominican Republic, where he has been making cigars for more than 30 years.
Kelner—Davidoff's Tobacco Guru
(continued from page 4)
Right now, Kelner says that he's sitting on six million pounds of binder and filler in the tobacco warehouse—a stock that equals about four and a half year's worth of production. Large inventory allows him the luxury of consistency and lets Kelner control that rate of growth.
"Every day we smoke something new and taste new tobaccos," Kelner says. "The blends are first dreamed, and then realized. It's necessary to work on new projects, as the market requires. Pleasure and duty are mixed." Kelner is extremely excited about the wrapper he's been able to grow in Yamasá, even though the project has been far from easy.
"Aluminum," he says of the soil as if it's a major nuisance. "There is so much aluminum in the soil. It's very complicated." But Kelner feels he has overcome the challenges of that region. For the 2012 growing season anyway. In two years, we will see cigars using wrapper from a 2011–2012 harvest that Kelner believes is the best crop this particular strain of
tobacco leaf has produced so far.
"Now, finally," says Kelner, puffing on his ever-present cigar, "I can say that I have grown the best wrapper in the world."
Comments
1 comment(s)
Derek Wotton — Deltona , Florida , — July 8, 2013 10:58pm ET
---
You must be logged in to post a comment.
Log In If You're Already Registered At Cigar Aficionado Online