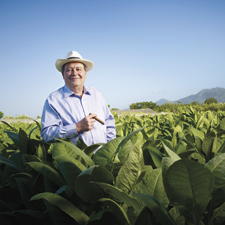 Hendrik "Henke" Kelner feels quite at home in the fields of the Dominican Republic, where he has been making cigars for more than 30 years.
Kelner—Davidoff's Tobacco Guru
(continued from page 3)
"When I work on a hybrid, the first thing I look for is resistance to disease," says Kelner. "But it has to have a high yield because the farmers need to make money. For a hybrid wrapper you need at least a 45 percent crop yield. And the vein structure has to be in such a way that the veins disappear during rolling. It also has to cure evenly. When the color is uniform during the curing process, you know you have a good wrapper."
Unlike the previous wrappers spawned in Ecuador, H-133 comes from the Yamasá region in the Dominican Republic. The wrapper's dark, oily appearance and robust flavor were a result of two Cuban seeds and the specific soil properties of the area. "The soil in Yamasá is very complicated," Kelner explains. "the ph is too low and the coarse soil drains water too quickly. You have to add double the calcium."
Regardless, Kelner finally finessed the matrimony between seed and soil until there was enough H-133 wrapper for an entire brand. Davidoff Puro d'Oro was born. It's an all-Dominican cigar with strong, flavorful tobacco and adorned with a striking gilded band. Kelner grew a similarly dark wrapper from the same the soil for the Zino Z-Class brand. This cover leaf is classified as H-192.
He hasn't done all this alone. Two key people help Kelner run both the growing and manufacturing aspects of Davidoff: "Eladio Diaz is crucial in the creation of the blends and quality control for cigar production. He's been working with me for 34 years. Manuel Peralta, our geneticist and agronomist is responsible for the development of tobacco varieties and fermentation. He's been by my side for 41 years."
In 41 years, Kelner has indeed watched the market change. According to Kelner, he's observed greater demand for stronger cigars and shorter, fatter ring gauges. He also applauds the U.S. market for its desire to try new sizes and new blends. Strongly committed to (and invested in) the Dominican Republic, Kelner is the president and founder of ProCigar, an organization of Dominican cigarmakers dedicated to maintaining high quality standards for the country's tobacco industry. His respect across the industry is without question.
"It was an honor to work with Mr. Kelner," said Mike Chiusano, former owner of the Cusano brand, which is made by TabDom. "With Henke I learned the science and art of blending and creating world-class cigars. His attention to detail, enthusiasm for testing and discovering new tobacco varieties and appreciation for fine cigars is a gift. It was a privilege to have him as a mentor for over 13 years."
Kelner made the Cusano brand under contract for Chiusano before Davidoff officially acquired the line in 2009. Cusano is marketed as one of Davidoff's value brands.
"Henke's contribution to Davidoff's success cannot be overstated," says Davidoff president and CEO Hans-Kristian Hoejsgaard. "He is the mastermind behind our most successful blends and continues to be driven by experimenting with new seeds and new areas of tobacco growing. His insistence on growing tobacco and in particular wrapper leaves in the Yamasá area of the Dominican Republic gave us the full-bodied Puro d'Oro Davidoff and is a particular testimony to Henke's importance,
vision and tenacity."
Although Kelner has been integral to the operation before Hoejsgaard was part of Davidoff, Hoejsgaard certainly recognizes that Kelner is not only synonymous with Davidoff, but emblematic of its mission.
"One of the hallmarks of the Davidoff philosophy is unrivaled quality and consistency and no one better understands that than Henke," adds Hoejsgaard. "His contribution in this area has been pivotal. As he now relinquishes some of his operational responsibilities and takes on a more active ambassadorial role for Davidoff and travels the world for us, he will be a first-rate spokesperson for the Davidoff brand and philosophy."
Comments
1 comment(s)
Derek Wotton — Deltona , Florida , — July 8, 2013 10:58pm ET
---
You must be logged in to post a comment.
Log In If You're Already Registered At Cigar Aficionado Online