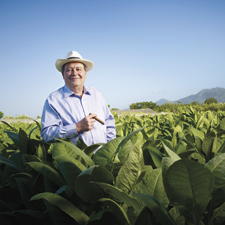 Hendrik "Henke" Kelner feels quite at home in the fields of the Dominican Republic, where he has been making cigars for more than 30 years.
Kelner—Davidoff's Tobacco Guru
(continued from page 2)
Tabacalera was a modest cigar operation. With 30 to 35 rollers, the company was making around 2 million handmade, premium cigars per year. This continued until 1984, when Kelner struck out on his own and opened Tabacos Dominicanos, better known as TabaDom. He brought The Griffin's brand with him and expanded it to six sizes.
"Then Avo came in 1987," Kelner said, referring to musician and internationally recognized cigar enthusiast Avo Uvezian, who had decided to make a cigar. "He was playing piano in Puerto Rico and during the '80s, there was a lot of tourism there from the U.S. It was very important. The first year I made them, Avo ordered 17,000 cigars. He'd come to the office and carry the cigars out under his arms." The Davidoff store on Madison Avenue started carrying the Avo brand in 1988, shortly after it opened.
Kelner made other cigars under contract, including Ashton (which was soon moved to Fuente by brand owner Robert Levin), but Davidoff became a bigger and bigger brand, eventually accounting for nearly all of his production. As demand grew for Davidoff cigars, Oettinger Imex eventually bought TabaDom Holdings from Kelner.
TabaDom stands as the administrative company that gives support to all its branches, although the arrangement of its subsidiaries can be a bit confusing. Procesadora de Tabaco Palmerajo (PTP) is TabaDom's agricultural arm responsible for growing, harvesting and processing tobacco. OK Cigar produces Davidoff's smaller brands, like Avo, The Griffin's, Zino and Private Stock, while Occidental Cigars is responsible for manufacturing the Cusano line as well as bundle brands and private labels. CiDav (Cigars Davidoff) is the marquee operation dedicated exclusively to Davidoff White Label and all Davidoff-branded cigars. Kelner has a hand in operating all aspects of these operations, but they are owned by Oettinger Imex, parent company to Davidoff of Geneva.
"A few years after I made the contract with Davidoff, the company needed extra financial capacity," explains Kelner. "Oettinger Imex became our partner with a 30 percent share. This was before the boom. After the boom, Davidoff became our biggest customer, accounting for more than 90 percent of our production and cigar sales from TabaDom totally depended on them, so it made no sense to keep a partnership any longer. In 2001, Oettinger became the total owner."
Kelner says that TabaDom produces 23 million cigars per year, and a little less than 8.5 million sticks are Davidoff-branded cigars. The company has considerable vertical integration. About 94 percent of the filler tobacco used by the company is grown and supplied by TabaDom in the Dominican Republic. About half of the binder leaves are grown domestically by TabaDom companies, the other half imported. Most of the wrapper, however is almost exclusively contracted. Only 7 percent is produced through TabaDom, the rest is acquired from other vendors.
The bulk of the flagship Davidoff White Label consists of Ecuadoran Connecticut-seed wrapper procured from the Perez family, blended with Dominican binder and Dominican filler tobacco. This blend is the signature flavor for Davidoff cigars, found on the Davidoff 2000, a 5 inch by 43 ring corona, that remains the best-selling Davidoff cigar. While the United States is Davidoff's largest market, the White Label cigars are sold internationally, competing directly with Cuban cigars all over the world.
More experimental blends, however have allowed Davidoff to take an edgier approach to the market. Hybrid wrappers and market demand for stronger blends have almost forced Kelner's creativity. Limited editions like the Toro Especial Selección 702 and Avo Heritage cigars both use proprietary wrappers that take considerable time and know-how to create.
"I started making hybrid tobaccos since 1985," Kelner says. "But you can't really have hybrid seeds. Think of it like a mule. You can crossbreed a donkey and a horse to make a mule, but the male mule does not produce mule seeds. They have to be crossbred again."
The "702" hybrid wrapper was the result of three Cuban seeds harvested in Ecuador. It has made appearances on the limited-edition Toro Especial as well as on other Avo cigars. Released in 2001, the Davidoff Millennium Blend uses a hybrid wrapper called "151," also developed in Ecuador. This is a regular-production brand as is the new Davidoff Puro d'Oro, which incorporates the H-133 hybrid wrapper.
Comments
1 comment(s)
Derek Wotton — Deltona , Florida , — July 8, 2013 10:58pm ET
---
You must be logged in to post a comment.
Log In If You're Already Registered At Cigar Aficionado Online