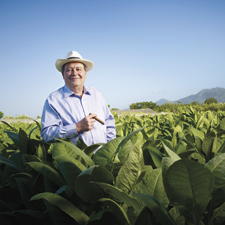 Hendrik "Henke" Kelner feels quite at home in the fields of the Dominican Republic, where he has been making cigars for more than 30 years.
Kelner—Davidoff's Tobacco Guru
(continued from page 1)
There were, of course, logistical problems with the early runs. The cigars were made in the Dominican Republic, but packed in Switzerland before distribution. Kelner was working off dictated size parameters, but never physically saw the boxes, so slight variations in the length or thickness of a cigar meant that entire batches of cigars wouldn't fit in the boxes and were immediately sent back to the factory.
"All the rejects became our Private Stock brand," says Kelner. "That was the solution before we finally got the calculations correct."
By 1991, Kelner was producing 3 million Davidoff cigars per year—impressive growth and confirmation that Schneider had not made a mistake by turning over his Davidoff brand to Kelner. But why the vote of confidence? Part of the reason could be that, professionally, tobacco is all Kelner has ever known. After graduating with a degree in industrial engineering from Mexico's Monterrey Institute of Technology, he couldn't find a job in his field, so he started working at a Dominican cigarette company called Tabacalera S.A.
"My father didn't want me to be in tobacco," recalls Kelner. " My other family members were already in the tobacco business and he didn't want me to suffer the grief that comes with competition between family members."
Kelner's father Klaas Pieter was a Dutchman and leaf broker working in the Dominican Republic for a tobacco firm based in Amsterdam. It was in the Dominican Republic where Klass Pieter would meet Kelner's mother Eulalia; Kelner was born in 1945.
"My father wanted me to go to university, but he died when I was 17 before I finished high school. The president of Tabacalera was a friend of my father's and after I finished college, he offered me a job. I started with the title 'engineer' but very quickly I became the general production manager."
Tabacalera was primarily a cigarette producer, making brands such as Montecarlo, Casino and Cremas for the Dominican market. Despite the fact that Tabacalera was founded as a private company in 1901, the Dominican Government took control of 72 percent of the business under the Rafael Trujillo dictatorship. By the time Kelner started working at Tabacalera in 1969, it was a free-market operation again.
Kelner eventually became the general manager of the operation and, in 1979, convinced Tabacalera to expand into the handmade cigar business.
"It was easy to convince the board," says Kelner. "There weren't a lot of different tobacco types back then. We used Connecticut and Cameroon wrapper, as well as Dominican Olor, Piloto and San Vicente tobacco. Exports were mainly to the U.S and Europe. To the U.S we made two brands: Cacique and Vega Real. For Europe we made a small brand called The Griffin's."
Cacique was made for tobacco luminary Pedro Martín of Tropical Tobacco. Griffin's was made for a Swiss nightclub owner named Bernard Grobet, who eventually introduced Kelner to Dr. Schneider. Kelner says Tabacalera also made a few contract brands for Consolidated Cigar Corp. (which later became part of Altadis).
Comments
1 comment(s)
Derek Wotton — Deltona , Florida , — July 8, 2013 10:58pm ET
---
You must be logged in to post a comment.
Log In If You're Already Registered At Cigar Aficionado Online