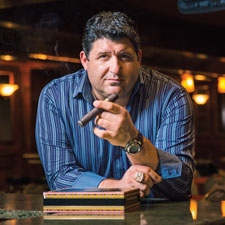 Tony Siragusa anchored one of the best defenses to ever stalk the NFL. Today he analyzes games, builds man caves and spends his downtime with a great cigar.
Smoking with Siragusa
Larger-than-life football star, TV commentator and man-cave creator Tony Siragusa always speaks his mind
(continued from page 4)
Smoking cigars helps Siragusa get away, to take time for himself. "I don't smoke cigars just to smoke cigars. I want to relax. It slows me down. Especially where we live; New Jersey is like a fucking rat race. It's unbelievable. It's crazy. It's your own little time. You're in your own little capsule," he says. "I don't have to be inside. I can be outside. I can be on the golf course. I can be at the beach. I can be wherever I want. But I have a home theatre and wine cellar and like a 1,000-cigar humidor that has all the cigars.
"I don't want to bother anybody with my cigar smell or anything like that. I don't want to show anyone that I smoke cigars. I want to go and just relax somewhere and have a cigar a couple of times a week."
Siragusa's take on cigars is much like his football career. Just as he might leave a bit of his cigars unsmoked, he could have stretched his playing days a bit longer. "I quit on my own terms after 12 years. I might have made a couple of more million dollars. But I might have been in a wheelchair or getting a knee replacement by now. I knew that I was about to move on and I'm going to go do something else," he explains, taking another hearty puff of that Partagas. "And whatever I decide to do, I'll be good at. That's the way it is."
Kenneth Shouler is a philosophy professor at the County College of Morris in Randolph, New Jersey and a frequent contributor to Cigar Aficionado.
Comments
2 comment(s)
Kenny Braun — Barnhart, Missouri, U.S., — October 4, 2013 10:38am ET
---
ernie brambert — October 5, 2013 10:06am ET
---
You must be logged in to post a comment.
Log In If You're Already Registered At Cigar Aficionado Online