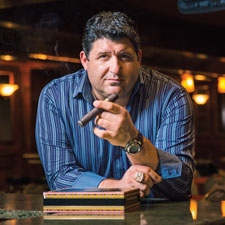 Tony Siragusa anchored one of the best defenses to ever stalk the NFL. Today he analyzes games, builds man caves and spends his downtime with a great cigar.
Smoking with Siragusa
Larger-than-life football star, TV commentator and man-cave creator Tony Siragusa always speaks his mind
(continued from page 3)
In one instance a guy wanted a fantasy football headquarters room for him and his buddies to watch the NFL draft. He wasn't allowed a glimpse of what was happening until the work finished. Jason Cameron and the "Man Caves" crew built him a sports ticker, put in a conference table with a surface like a football field, mounted a fish tank, added a leather couch and chairs, a bar, a 46-inch and two 26-inch televisions. Other projects have included golf simulators, poker tables and, yes, smoking rooms.
Siragusa is known for his tough side, but his Tony Siragusa Foundation raises money for terminally ill kids. He has also given money to the Make-a-Wish program, the American Cancer Society, and other things too, such as Little League.
Siragusa's acting career got an unexpected start when he was shopping at Home Depot. "Someone calls me up and says, 'Hey Goose, this is Spike Lee.' So I thought one of my buddies is fucking with me. So I said, 'Yeah, yeah—I'll call you later,' and I hung up." Undeterred, Lee phoned him back. He wanted Siragusa to be in a mob movie. Siragusa saw a natural fit.
"He meets me at my agent's conference room. He comes in and doesn't say anything about the goddamned movie. He says, 'Hey man, you did a great job in the Super Bowl.' Then he said, 'It's not going to be an Italian mob movie, you're going to be a Russian and I'll call you later, I gotta go.' " 
A confused Siragusa called his agent. Acting in a mob movie but playing a Russian? Then Lee sent a person to teach the former NFL star how to speak Russian. "I had to speak with my tongue on the roof of my mouth," he says. The movie was The 25th Hour and it included Phillip Seymour Hoffman, Ed Norton and Anna Paquin.
"The Sopranos" acting experience wasn't nearly as smooth. He played Frank Cortese, Tony's driver and bodyguard, but he disliked spending 18 hours on the set and being filmed for two minutes. "I said to this lady, 'You're wasting my life.' With Spike it was like 'Goose, you're on. Be here at this time.' Boom. You're done. But these guys were making up "The Sopranos" as we were sitting there. They're saying, 'Oh, what do you think he should do?' 'Oh, I think I should go over here.' 'Alright, you go over there and what do you want to do?' 'I'm going to go over there. Uh, let's talk about it,' " he says. "They had four writers, so it was a little bit crazy." The spot ended when they wanted him to shoot during a planned vacation.
Siragusa's perennial, and natural, gig is being a sideline analyst for the Fox Network during football season. "When you are in the booth, you are away from the game. You don't have a feel of the whole momentum of the game or the players going through the elements or anything like that. So my being on the sideline is like having the booth down on the field and having the understanding of what players are doing, what's actually happening and how they are talking to each other, what's going on. And if you get into the end zone-every coach and player whenever they watch the game, they watch it from the end zone.
"I like during commercials when the players come over and say, 'Hey, what did you see on that replay?' It's the interaction with the guys. Or when the offense is coming at me and they are on the two-yard line. I can say, 'Right before that play the quarterback was touching,' or 'You knew that the play was going that way and they read it really good.' Or, 'They had no clue because you read people's eyes.' "
Siragusa prepares to light a second Partagas, which begins a conversation about what he likes in cigars. "Look, I'm no connoisseur of cigars. A good cigar, though, is nice. You know you got a good taste in your mouth. Relaxed. I'm not the kind of guy either that feels that you gotta smoke the whole entire cigar. You know when I smoke a cigar—like right now—I'm nice and relaxed. I smoked a nice piece of the cigar. Then I'll put it down for a little while and enjoy it. I'll light it back up.
"I smoke a lot of Cubans. I like a Montecristo. It's a good smooth cigar. I like torpedoes. I could smoke more of a Montecristo and less of a Partagas Black," he says of the Dominican cigar, known for being among the more powerful of General Cigar Co.'s smokes. "Partagas Black—when you smoke a couple of inches of it, you smoke half a cigar-w-o-o-o-o. You get a buzz."
Comments
2 comment(s)
Kenny Braun — Barnhart, Missouri, U.S., — October 4, 2013 10:38am ET
---
ernie brambert — October 5, 2013 10:06am ET
---
You must be logged in to post a comment.
Log In If You're Already Registered At Cigar Aficionado Online