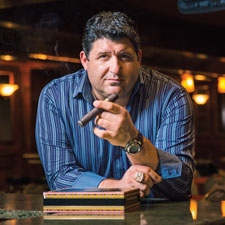 Tony Siragusa anchored one of the best defenses to ever stalk the NFL. Today he analyzes games, builds man caves and spends his downtime with a great cigar.
Smoking with Siragusa
Larger-than-life football star, TV commentator and man-cave creator Tony Siragusa always speaks his mind
(continued from page 2)
The Colts asked Siragusa back, but he wanted out. "We would have killed for Ted Marchibroda, and our ownership comes in and fires him! And then they hire Lindy Infante." Infante had doubted Siragusa when he said he had a knee injury, and even kept him off the active roster for the first playoff game. He was a free agent. Siragusa once thought of living in Indiana, but the quintessential Jersey guy living in Indiana makes about as much sense as Woody Allen relocating to Nebraska.
One call came from the Raiders. "[Oakland owner] Al Davis brought me in and he offered me a deal and then he
decided he was going to go $50,000 lower the next day. He said, 'Every day is a new day.' I said, 'You're absolutely right. Give me my fucking plane ticket. I'm outta here.' "
He settled with the Ravens. His fourth year there felt special, even though the team started out with a 5-4 record. "We needed to get better. We went five weeks with no [offensive] touchdowns with Tony Banks as our quarterback. It was like, 'Alright, we have to get better.' "
The Ravens calling card was a smothering defense, with Siragusa and Sam Adams on the defensive line, and linebackers Peter Boulware, Jamie Sharper and the unstoppable Ray Lewis. The city that once boasted one of the greatest quarterbacks of all time in Johnny Unitas now enjoyed a whole other identity, rolling off 11 straight wins to conclude the season.
"We shut someone out, but we [felt we] can do it even better, we can hold them to less yards. If we hold a team to 105 yards, then we can hold them to 100. It was a pride thing," says Siragusa. "And we had more fun. We busted more balls. But when we went out to practice and they blew the horn, everyone would turn from the biggest jokesters ever, messing around, to the most serious motherfuckers you ever met in your life. It's almost like when you look at the military and everyone is joking around and all of a sudden this general comes in. And the whole attitude completely changes. We didn't have a general, but we knew when it was work time, everybody would flip that switch. You didn't want to be in front of us. It was a freight train coming."
Over the 11 straight wins, only three opponents scored 10 points or more against the Ravens. In the conference championship game against Oakland, they held the Raiders to just 24 yards on the ground and stifled them 16-3. Weighing in at 340 pounds, Siragusa leveled Oakland quarterback Rich Gannon, separating Gannon's shoulder. The league fined him $10,000 for "an illegal hit." Gannon went on ESPN, describing the pain.
"I'm lying in bed with my wife and we're watching TV, and she comes up with the best line," says Siragusa. "My wife is all of about five-foot-one and 100 pounds. She hears Gannon complaining and says, 'You jump on me twice a week and I don't complain about it. If I complain, do I get $10,000?' I started laughing and I said, 'I'm using that one.' "
On the day of the Super Bowl, Siragusa arrived at the stadium six hours before anyone else. "Because I played with emotion-my adrenaline would get flowing and I just had to calm myself down. Stay calm, stay collected, stay relaxed. I was reading through the program and it had the picture of all the different Super Bowl rings. I went around with a razor blade and cut it out and stuck it in everyone's locker. So everybody had one. So they knew that when they came the first thing they saw was this ring. I said, 'This is the reason why we're here. Not for any other reason. Not for national television, the biggest spotlight,'" he says. "We're here to get a ring. If we get that ring, we'll be together for the rest of our lives because they will also bring us back as the group that won the Super Bowl."
The game itself was an anticlimax to the dominant three months that had preceded it. The Ravens won 34-7, not even allowing the Giants an offensive touchdown. It was fitting: the 2000 Ravens' defense holds the record for fewest points allowed in a 16-game season, 165. That is more than two points per game less than the 1985 Bears, who allowed 198 points.
Siragusa got his ring, and since his retirement at the age of 34 in 2002, Siragusa has eased seamlessly into his new life. One steady gig has been with "Man Caves" on the DIY Network on cable, a show where Siragusa and cohost Jason Cameron build rooms where guys can be guys and enjoy cigars, pool or whatever their favorite hobby might be. "My agent called me up and said, 'Do you want to do this show? It's almost like "Total Home Makeover," but it's for guys.' I said 'Yes—we're gonna give guys their nuts back.'"
Comments
2 comment(s)
Kenny Braun — Barnhart, Missouri, U.S., — October 4, 2013 10:38am ET
---
ernie brambert — October 5, 2013 10:06am ET
---
You must be logged in to post a comment.
Log In If You're Already Registered At Cigar Aficionado Online