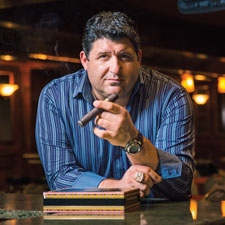 Tony Siragusa anchored one of the best defenses to ever stalk the NFL. Today he analyzes games, builds man caves and spends his downtime with a great cigar.
Smoking with Siragusa
Larger-than-life football star, TV commentator and man-cave creator Tony Siragusa always speaks his mind
(continued from page 1)
Now he had to rehab and finish his senior year without his father. "I felt I had to do something with football to support the family," he says.
Six years after his father died, he and Kathy were driving down the Garden State Parkway, and he told her he wanted to stop at the cemetery to see his dad. He got to the headstone and his eyes welled up. He started to speak, but the words refused to come through the tears. "She looked scared," he says. "She told me later that she thought I was about to break up with her. But I had bought a diamond for her and I asked her to marry me right there in the cemetery. She started crying and said yes."
In 1990, Siragusa endured the horse auction better known as NFL Draft Day. His mother had invited everyone in earshot to the house to watch the drama unfold on television. They sat and waited. And waited. They watched as 12 rounds were completed. All told, 331 players had their names called out. Six of them were from the University of Pittsburgh, but none were named Siragusa. As it turned out, he had a better chance of being drafted by the Army in peacetime than being drafted by the NFL.
The silver lining was that drafted guys do get cut. Just as some Broadway shows close after a week, even No. 1 picks can turn out to be flops. And some of the greatest players—including Johnny Unitas, Kurt Warner, and Tom Brady—are either drafted late or not at all. Siragusa's agent Gus Sunseri was fielding calls. Indianapolis called. After Sunseri explained where it was (Siragusa, who hadn't yet left the Northeast, thought he meant "Annapolis")—Tony called an old mate from Pitt who assured him that he would be the best defensive lineman on the team.
He got a $1,000 signing bonus and a rookie salary of $75,000, with another 10 grand coming if he made the team. And just in case Goose had another knee problem or suffered some other injury, language in the contract made it clear that the Colts were not liable for a dime.
No matter. A persistent edginess, fueled by people who underestimated him, always carried Siragusa. If overlooked or cut from his position, he snapped back and sought a "I'll-prove-you-wrong" brand of revenge.
He needed it. "I made the NFL on hustle. When I first got to Indianapolis I really didn't know anything. I just knew that if I tackled that son-of-a bitch with the ball behind the line it's going to be a good job." A college coach taught him how to watch film, and he used craft and guile to figure out how an offense really thinks. "I made believe I was an offensive lineman and sat in the offensive meeting rooms," says Siragusa. "I was listening to the offensive line coach and how he was telling his guys how to block a defensive guy. And then I used that against him. So it was almost like being at war with Patton, and being on the other side, and sitting in a room and picking Patton's brain and being able to screw him up."
In Indy he also met Ted Marchibroda, who he would play for again in Baltimore. "He just handled things differently. He didn't get in your face. He treated you like a man. He confided in me, which I really liked. He asked me what I thought about certain people," says Siragusa. "Even though he was gone after the 1998 season, he was a vital part of the camaraderie and the guys who got together and won that Super Bowl."
Siragusa was playing for Marchibroda with Indy in the game he will never forget, a 20-16 loss to the Steelers in the AFL championship game in January, 1996. "It was the most memorable game I ever played in, with Jim Harbaugh being our quarterback and a bunch of nobodies," says Siragusa. They fell short one play from getting into the Super Bowl.
"I never wanted to be in that situation again," explains Siragusa. "I never wanted to be at the tip—you know, feel it, taste it, but not getting there. I carried that feeling into the Super Bowl with the Ravens. I said 'I'm not leaving here without a win.' "
Comments
2 comment(s)
Kenny Braun — Barnhart, Missouri, U.S., — October 4, 2013 10:38am ET
---
ernie brambert — October 5, 2013 10:06am ET
---
You must be logged in to post a comment.
Log In If You're Already Registered At Cigar Aficionado Online