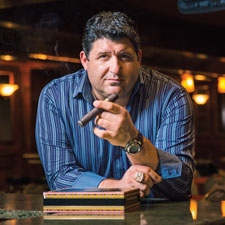 Tony Siragusa anchored one of the best defenses to ever stalk the NFL. Today he analyzes games, builds man caves and spends his downtime with a great cigar.
Smoking with Siragusa
Larger-than-life football star, TV commentator and man-cave creator Tony Siragusa always speaks his mind
Tony Siragusa is holding court, sitting at a bar in his restaurant, punctuating his speech by poking the air with a thick Partagas Black cigar. Animated as ever, he recalls the time he built actor Charlie Sheen a man cave. The "Goose" has dropped major weight since his playing days when he shook the earth at 340 pounds, but his head and neck still appear enormous enough to plug both tubes of the Holland Tunnel. His moon-pie face, as elastic as pizza dough, assumes countless expressions in under a minute.
"Charlie smokes these killer cigars. If the cigar is under $100, he doesn't want to smoke it. He gave me a box of Cubans." He stops to light the cigar and a flame, set high enough to weld alloyed steel, lurches upward. "You wanna talk about a guy who knows sports-he's just a great guy. He gets a bad rap. But listen: he's living the dream everybody wants to live. All of a sudden he's gotta be some great guy and he can't party? Fuck that! You know what I'm saying?"
We do indeed. Siragusa shares a love of frankness with the famously libidinal actor—and a consequent loathing of political correctness. He retired in 2002, a year after he won a Super Bowl with the Baltimore Ravens. His post-football life is head-spinningly abundant. In-season he is a Fox sideline analyst. Year round he cohosts "Man Caves," a kind of home makeover show for guys. He and his wife Kathy are raising three children in northern New Jersey. He owns a restaurant called Tiffany's, watches over his philanthropic Tony Siragusa Foundation, does TV commercials and has acted in a Spike Lee movie and in "The Sopranos."
Through it all he lives—and curses—with few restraints. As anthropologist Ashley Montagu argued in his book The Anatomy of Swearing, cursing is a relief mechanism "whereby excess energy is allowed to escape without doing anyone any serious injury." So what if Siragusa cursed about 20 times in the course of an interview? It's one of his ways to let off steam.
Siragusa came of age in Kenilworth, New Jersey, which he called "a little dot of a town" in his autobiography Goose. There he grew to be competitive at baseball, football, wrestling, even shooting pool. A trophy of his state wrestling championship sits in a case at David Brearley High School, next to one with his wife's all-around gymnastic score—still a school record more than 25 years later.
Despite his rounded athletic prowess, Siragusa has referred to himself as a "grinder," compared to the "stud athletes" of the Baltimore Ravens: Ray Lewis, Chris McAlister and Peter Boulware. Goose didn't flourish on the gridiron due to blinding speed and agility. There was talent, but his story is more one of will than skill.
His father Peter was also a grinder. "My dad was a blue collar guy—a tool-and-die man. He drove a cement truck and drove a limo, too." Peter also played high school football and owned an Italian restaurant in New Jersey. Tony was making pizzas there by the time he was 12. "I told my father I wanted to be the manager the first day I worked there." His father had other plans. Tony ended up washing the dishes for six months, then making cold sandwiches, then dinner, then pizzas. Later, when the elder Siragusa told his son he could finally manage, the father explained why it took so long. "He said, 'Listen, you have to work your way up in life. If you go right to the top you don't enjoy everything.' " And, explained the elder Siragusa, if anyone who works for you leaves, you know how to go and fill in when needed.
Siragusa grew up watching the New York Giants with his family, and he excelled on the football field at David Brearley High, not only playing the defensive line but punting and taking kicks. Life was looking up as he started looking at colleges. He visited the University of Miami, Iowa State, Boston College, West Virginia, then Penn State. He found the Nittany Lions cheap-they charged his father a dollar for a couple of cookies. "They want me to come here, and I'm going to make millions of dollars in television money for them, but I have to pay a dollar for cookies?" Siragusa decided to pass. He told his father, "These guys can kiss my ass."
He settled on the University of Pittsburgh, a five-hour drive from New Jersey, close enough that his father could afford to come see a game. He made 78 tackles in his second year and the buzz around him began to build, but in his junior year, in the fifth game against Boston College, running back Eddie Toner rolled over his right knee and tore Siragusa's medial lateral ligament, medial collateral ligament, and lateral collateral ligament. Thanks to Dr. Fred Fu, a leader in ACL surgery in the country, he was back on the field by the following April, but while practicing Siragusa shredded the ACL in his left knee. This time the repair was more difficult and he missed the whole season while rehabbing.
Before he graduated, Siragusa would face another challenge. Tony was at home visiting his parents after a summer backyard party. Everyone went to bed. In the middle of the night his mother was screaming that his father had a heart attack. Tony tried CPR, but Peter died at the hospital. Tony was 22.
Comments
2 comment(s)
Kenny Braun — Barnhart, Missouri, U.S., — October 4, 2013 10:38am ET
---
ernie brambert — October 5, 2013 10:06am ET
---
You must be logged in to post a comment.
Log In If You're Already Registered At Cigar Aficionado Online