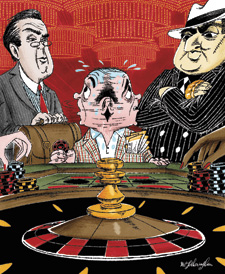 Illustration/Ed Fotheringham
Collecting the Debt
Missing payments for gambling loans can be just as painful on the books as it is off
(continued from page 1)
Like a lot of things that eventually make their way to the legal casinos of Nevada, markers are rooted in the murkier, illicit world. From the earliest days of gambling, folks liked to wager with credit, whether it was hotel room poker games, back-alley craps or 8-ball at the local VFW. Initially, in Las Vegas, it was the junket operators—trip organizers bringing people out to Sin City for gambling—who issued credit. "Mob guys and bookies ran the junkets," says David Schwartz, author of Roll the Bones: The History of Gambling (Casino Edition). "So if you got in deep with a junket operator, it would be like getting in deep with the mob."
According to Schwartz, casinos in Nevada began issuing their own credit to gamblers in the 1940s. It may have taken the most overt mobsters out of the picture, but it didn't mean that you were accepting loans from particularly savory characters. "Before 1982, the casinos [in Nevada] had no legal recourse for collecting money," says Schwartz. "They could damage your kneecaps if not your credit rating. But when New Jersey legalized casinos, it was mandated that debts could be collected legally"—just like bad checks. "Nevada decided to do the same thing. It made sense. It seemed like a cleaner way of doing business."
Nevertheless, gamblers in need of quick cash cannot always get it from casinos. Maybe a person's credit rating is shot. Or else he wants to bet at the racetrack or with a bookie on sports. Or perhaps he doesn't want his family to know that he is borrowing money with which to gamble. That is when he might take a loan from a bookie or loan shark and come into contact with a man who likes to be known as Salvatore "Sally" Soldi.
Born in the Bronx, relocated to Pompano, Florida, where he currently lives in semiretirement, Soldi has the physical proportions of a refrigerator, carefully groomed facial hair and a cane with a sword hidden inside it. Now 55, he has been collecting money since the age of 16. Quick to insist that he is not a thug, Soldi immediately points out that he has never gotten involved in retrieving debts for drug dealers. His clientele has always consisted mainly of degenerate gamblers.
You may arrange to borrow money from a shylock, but the person who delivers it to you will be Sally Soldi or someone very much like him. He brings the cash in an envelope. If casino gambling is your thing, he'll go away from the prying eyes of surveillance to hand you the currency. Soldi likes to convene with clients in retail establishments where he can do quick handoffs. You'll meet him to pay back the loan—which accumulates interest at a rate of 20 percent per week—at the same location. "When I bring money to a guy, I'm God," Soldi says. "But when I need to collect, I'm the Devil."
He relates this inside the Humo Cigar Company in Fort Lauderdale. It's a shop owned by a friend of his named Paulie S. In deference to the delicate nature of our conversation, Paulie locks the door of his shop. Puffing on a prelunch Romeo y Julieta cigar, Soldi recalls the first time he had to get aggressive with a client. He was 16 when a gas station owner in the Bronx refused to pay. So Soldi and his partner began staking out the place at 5:30 in the morning.
"We jumped the owner and his mechanic as they walked in and made them turn on the pumps," he remembers. "Then we tied them up, gagged them and put each one into a car trunk. That's when my partner and I began pumping gas. We kept pumping it until we had the $6,000 he owed. Then we let him and his mechanic out of the trunk. They were still tied up, hopping around, as we drove away."
In case I have any doubts about the impact his presence can have on slow or elusive payers, Soldi pulls a long-barreled Colt 45 gun out from inside the waistband of his pants. Then he shows me a hat that has human teeth adorning the band above the brim. Gnarly and browning and definitely real, the teeth once belonged to people who failed to settle their debts quickly enough. "We didn't want to break the arms and legs of guys because then they couldn't work and couldn't earn the money to pay back what they owed," says Soldi, pointing out that such outlandish forms of retribution add drama to movies but do not work in the real world. "Instead, my friend Masio would have a wrench that he'd stick into the back of your mouth. He'd pull out a tooth. I'm assuming it was painful. I know that the guys didn't want to have it happen again. It sent a message but at the same time allowed them to go to work the next day."
Things did not always go exactly as Soldi wanted. He admits that he served time behind bars, convicted of extortion, but most of the time, he adds, "Plaintiffs figured it was a good idea to call it a day. Most of them never made it to court."
While the bottom line for Soldi was always to get the job done and retrieve the money by whatever means necessary, he does pride himself on his ability to get creative. Like the time he walked into a deadbeat's meat shop, perfectly dressed for the occasion in pristine butcher's whites, and left with a side of beef as a partial payment. Or when he and a partner donned Con Ed uniforms in order to gain access to the Co-Op City apartment of a losing gambler who was poised to skip town with his wife. "His packed valise was on the bed," remembers Soldi. "We hung him by his ankles, off of the edge of an 18-story balcony, and then he decided to give us our money. In the end he walked us downstairs before splitting—just like a banana."
You must be logged in to post a comment.
Log In If You're Already Registered At Cigar Aficionado Online